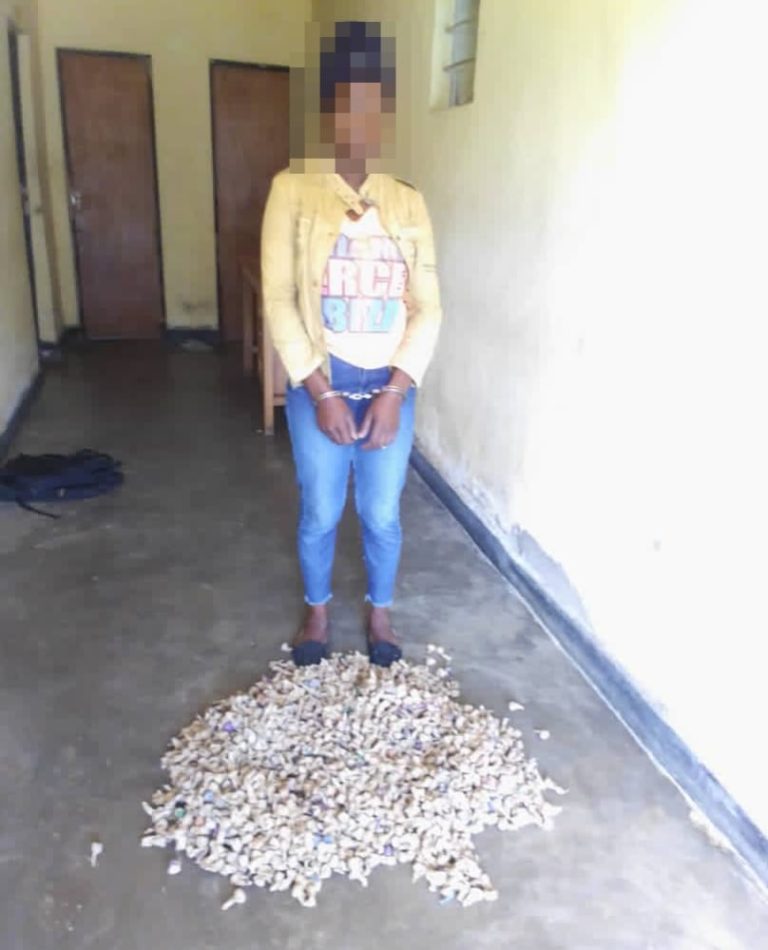 Intensified Rwanda National police (RNP) operations against drug related crimes led to the arrest of another drug dealer in Nyabihu District on Friday, August 26.
Police in the Western Province said Uwase Dusabe Faustina was intercepted in Rugera Village, Nyamitanzi Cell, Jomba Sector with 2033 pellets of cannabis.
Her arrest came a day after two other suspected drug dealers were also apprehended in the same district in Ruhongore Village, Nyamitanzi Cell, Jomba Sector with combined 2017 pellets of cannabis.
Chief Inspector of Police (CIP) Mucyo Rukundo, the Political and Civil Education Officer for the Western Region, said that Uwase was arrested due to a tip-off by a responsive local resident.
"Police had earlier received information from a resident, who suspected Uwase to be involved in drug-related crimes. At the time, she was boarding a commercial motorcycle with a bag suspected to be containing cannabis" CIP Rukundo said.
He added: "Police conducted a target operation and mounted a check-point along Mukamira-Ngororero highway where the motorcycle was stopped, Uwase searched and found in possession of 2033 pellets of cannabis concealed in the bag. She was immediately taken into custody and handed over to Rwanda Investigation Bureau (RIB) at Jomba station pending further investigations."
CIP Rukundo thanked a resident, who shared information leading to the arrest of the suspect. He warned that operations to crackdown on all those connected to drug trade and abuse are continuous.
The Ministerial order No. 001/MoH/2019 of 04/03/2019 establishing the list of narcotic drugs and their categorization classifies cannabis in the category of "very severe narcotics.''
Article 263 of law No 68/2018 of 30/08/2018 determining offenses and penalties in general states that any person, who unlawfully produces, transforms, transports, stores, gives to another or who sells narcotic drugs and psychotropic substances, commits an offence.
Upon conviction for "very severe narcotics," the offender faces between 20 years and life imprisonment, and a fine of between Frw20 million and Frw30. (End)