By Daniel Nzohabonimana;
In almost every country especially in developing countries, there is always a gap between the number of clinicians available and the number of patients who need healthcare services.
Rwanda is not an exception. The East African country of more than 13 million inhabitants face the same challenge.
Babyl Health, an innovative digital solution, was launched in Rwanda to bridge the persistent gap that has been there forever. Now it is possible to dial *811# and have access to digital healthcare services from the comfort of your home.
"When Babyl Health was launched in the UK back in 2014, the idea was how much healthcare services can be channeled through mobile phones so that the gap between doctors and clinicians can be bridged", said Dr Patrick Singa, the medical director for Babylon Health in Rwanda.
As the digital healthcare services provider company was looking for a developing country to scale up its operations and test its model, Rwanda came up as an ideal country in which to invest.
The country met most of criteria set by the company. In addition, Rwanda's High Commissioner to the United Kingdom (UK), Ambassador William Nkurunziza, was in the audience when Babylon Health was launched and he extended an invitation for them to invest in Rwanda.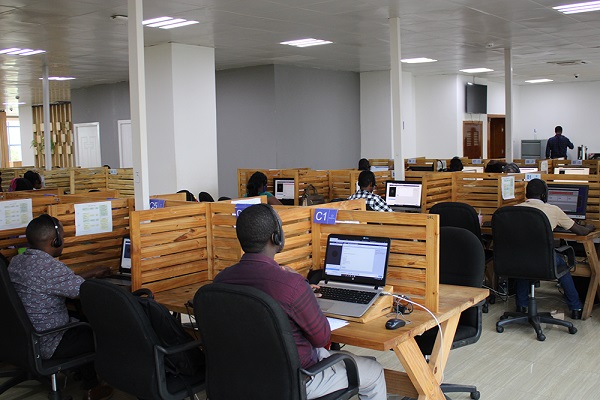 Babylon Health finally launched its services in Rwanda in 2016 under Babyl brand. At that time Rwanda was counting on an average of one doctor per 12,000 patients according to Rwanda Medical and Dental Council (RMDC).
It was interesting for Babylon Health to find out that Rwanda is having universal health coverage because it meant the patient is not paying out of pocket.
'There is a structure that is supporting the patient to pay for the service", said Dr Singa.
Universal health coverage in Rwanda became mandatory in 2008 and is managed by the Rwanda Social Security Board (RSSB). More than 80% of Rwandan citizens are subscribed to it, according to Rwanda Social Security Board figures of the year 2019/2020.
"Now the digital healthcare service provider is conducting between 3000 and 3500 consultations on a daily basis and more than 85% of its patients subscribe to Rwanda's universal health coverage dubbed Mutuelle de sante. A patient who lives in Gasabo district said that he was introduced to Babyl digital healthcare services by its agent who explained him that it is a quick service whereby you can consult a medical professional through your feature phone. One of the benefits of Babyl is that you don't have to waste your time by queueing at a health center for consultation", said Patrick Rusine.
Mr Rusine Patrick added that it helps you to avoid self-diagnosis and go to pharmacy without knowing what you are suffering from.
"When you use Babyl services you consult a medical professional over your phone and he prescribes you medication according to what you are suffering from."
Donatha Karuhimbi from Kicukiro district chose to adopt Babyl services because it is a quick service.
"I was sick and booked an appointment with a medical professional. After the consultation over my small phone I received my prescription on SMS which I took to the health center's pharmacy to get medicine ", said the elderly woman.
Five years down the road since Babyl started providing digital healthcare services in Rwanda, it has managed to register more than 2 million people on its digital platforms, said Dr Singa.
Dr Singa said that some people cannot have access to Babyl platform for lack of mobile phones or children because the company is licensed by the ministry of health to treat people above 12 years old.
"I remember when we started at some point we had something like 50 consultations a week so it has been growing slowly" noted the medical director of Rwanda's only digital healthcare services provider. He pointed out that Babyl invested a lot in communication and awareness to help change the mindsets and create a behavioral change that was needed for patients to trust that it is actually possible for one to get healthcare services through a mobile phone.
"When Babyl started in Rwanda, it invested time and resources in market activation and tried different things to be able to start creating behavioral change and now people are convinced that if you have a flu you don't need to queue at the health facility", said Dr Singa.
From the convenience of their homes, patients can now dial Babyl's code *811# and it can manage more than 80% of all the primary healthcare issues such as malaria, flu, abdominal pain, among others.
Dr Singa said that the ministry of health gave Babyl a license for practice that also defines their scope because you obviously cannot treat everything over the phone and the company doesn't have the ambition to treat everything.
From zero patients when Babyl started five years ago to 2,000,000 registered users on its digital platform, it has been a challenging but rewarding experience for the digital healthcare services provider.
In order to be able to adapt itself to the Rwandan healthcare services provider market, Babyl forged a number of partnerships with different institutions such as the ministry of health, Rwanda Social Security Board (RSSB), Rwanda National Identification Agency and telecom companies.
Babyl medical director said that the company needed to conceptualize what was happening in the UK because they quickly understood that they cannot copy and paste the UK model into Rwanda.
Babyl Rwanda took a decision to open an office in Kigali city to run a call center so that it can give clinicians the computers and internet connections they needed to deliver a quality service to the patients.
In the UK the company delivers its services via smartphones and clinicians deliver the services at home as they have reliable internet connections and hardware to deliver quality services.
After realizing that smartphone penetration was low in Rwanda, Babyl launched a feature phone app or USSD which Dr Singa likes to call an African technology.
Statistics from the Ministry of ICT and Innovation show that out of the 10 million Rwandans who have mobile phones, only around 1.6 million own smartphones.
"To date, phone penetration stands at 79.8%, but smartphone penetration is still low at 14.6%", said Paula Ingabire, Rwanda's minister of ICT and innovation.
It became evident that the only technology that was going to enable Babyl to serve a bigger percentage of the Rwandan population was an USSD app that can be accessed on a feature phone that is owned by the majority of citizens. The USSD app enables Babyl to interact with patients by way of text messages and it doesn't require an internet connection. Additionally it helps patients to register on Babyl digital platforms using their national ID.
In case a patient is in need of Babyl digital healthcare services, the patient flow starts by dialing Babyl short code *811# and a message is going to be prompted on the patient's phone screen asking him to register using his national ID.
"When you book an appointment with us in less than a second our system will connect with the Rwanda Social Security Board (RSSB) database to check the validity of your insurance ", said Dr Singa.
He added that your scheme with RSSB determines how much you pay. Babyl didn't change the way patients experience healthcare services in the physical facilities. In Rwanda when patients with "mutuelle de sante" go to a health center, they pay 200 RWF for consultation which represents 10% of the cost of the overall consultation. RSSB will reimburse the health facility 90% of the cost.
So patients with "mutuelle de sante" on our digital platforms will also pay 200 RWF for consultation using mobile money and RSSB will reimburse us the 90% of the cost", the same experience with the physical facility noted Dr Nsinga.
The only difference is that when patients seek health care services at a physical facility, they have to go there while with Babyl they can get the services anywhere they are located via their mobile phones.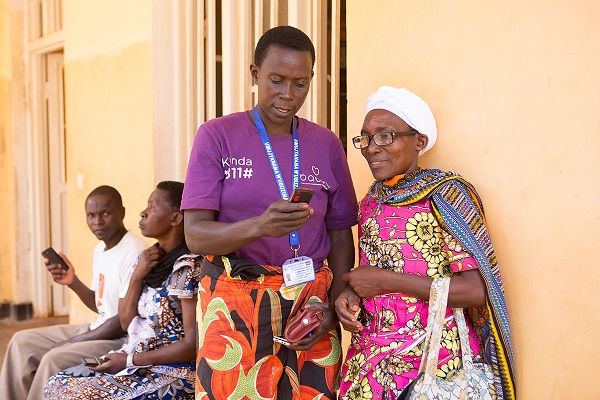 Dr Singa said that from the moment a patient books an appointment to the moment Babyl call him the period doesn't exceeds 30 minutes and they monitor that period of time for customer services purpose.
Babyl goes through two stages to treat patients digitally. The initial stage is triage and the second stage is consultation with the senior nurse or a doctor.
The role of triage is to determine if the patient's condition is suitable for digital healthcare service or how severe is the patient's condition. If the patient's condition is too severe Babyl support the patient by calling an ambulance or it can direct the patient to the next place of care.
"For about 80% of the case, the nurse will find out that a patient's case is suitable for digital healthcare service. She will then book an appointment for the patient with our clinicians that are sitting here in our offices", said Dr Singa.
He noted that Babyl have doctors and nurses in its offices and depending on the patient's condition, they will determine if the patient is going to be treated by a nurse or by a GP.
Babyl is employing 250 nurses and 150 doctors that are working on part time basis.
In order to be able to serve patients living in different parts of Rwanda Babyl put together a network of health facilities. The digital healthcare services provider has partnerships with 483 public health centers and 120 private pharmacies around the country.
The pick in terms of volume of patients Babyl is treating increased when the digital healthcare services provider came up with partnerships with the above mentioned institutions in Rwanda.
"For almost two years we started giving free consultations to have people try the service and to know that it exists and that there is a real clinician at the end of the line" said Dr Singa.
He added that putting together all the partnerships and building all the networks have been instrumental in Babyl making sense for the patient so that it can actually close the whole cycle.
"We consult you, we prescribe you and we refer you", noted Babyl medical director.
The volume of patients started going up around 2018 up to now it has been going up. Dr Singa predicts that by the end of 2021 Babyl will be conducting between 4000 and 4500 consultations a day.
The biggest challenges the digital healthcare services provider faced and is still facing is that of behavioral change and the third party dependency.
"Our biggest challenge is behavior change like telling people who have been seeking healthcare service to a physical facility to do it over the phone" said Dr Singa.
He noted that it takes time and effort to convince a patient to adopt digital healthcare services. Luckily once the patient tries, the likelihood of using the service again is high and the same patient recommends the services to his friends and families.
The second challenge Babyl has faced is that of third party dependency. The digital healthcare services provider has forged partnerships it is proud of but it means that if the system of one of our partners is down, it immediately affects Babyl's services delivery.
"If for example our telecom partners' services are down as we treat over the phone, the patient can't register to our platform and cannot pay via mobile money", said Dr Singa.
Babyl is looking forward to investing in artificial intelligence to better serve its patients.
"Now we are in the process of introducing artificial intelligence and we are doing it in collaboration with Bill and Melinda Gates Foundation which has been instrumental for us to scale our operations in Rwanda", concluded Dr Patrick Nsinga. (End)