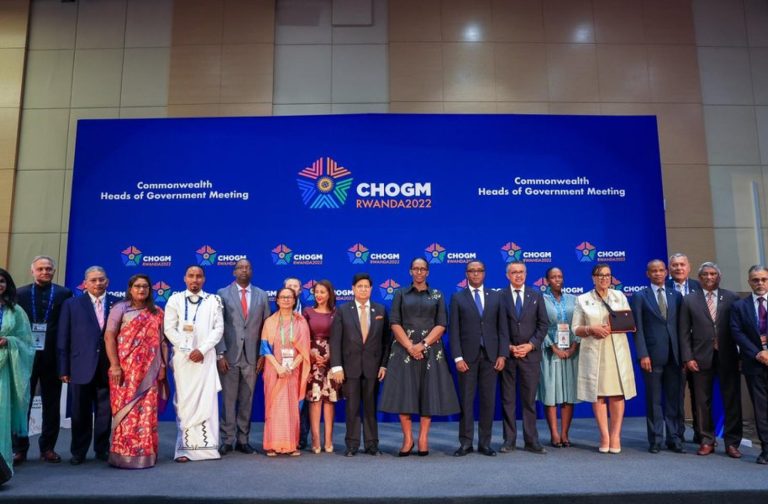 The Foreign Ministers of Bangladesh and Rwanda have announced the Kigali-Dhaka Compact on Mental Health at a high-level dialogue held on the sidelines of the Commonwealth Heads of Government Meeting (CHOGM) on 22 June.
The event, which was held under the theme "Rethinking Mental Health: A Commonwealth Call to Empower, Care and Transform", was hosted by the Government of Bangladesh in partnership with the Government of Rwanda, the Commonwealth Secretariat, and the Shuchona Foundation of Bangladesh, a leading think-tank working on mental health.
In attendance was the Commonwealth Secretary-General, The Rt Hon. Patricia Scotland QC, the First Lady of Rwanda, H.E. Jeanette Kagame, the Rwandan Foreign Affairs Minister, Hon. Dr. Vincent Biruta, Dr. Tedros Adhanom Ghebreyesus, Director-General of the World Health Organization (WHO); Ms Saima Wazed Hossain, Advisor to the WHO Director-General on Mental Health and Autism. They were joined by Commonwealth ministers and dignitaries, civil society, and mental health experts from across the Commonwealth.
The Commonwealth Secretary-General, The Rt Hon. Patricia Scotland QC, said:
"This discussion could not be more timely or more important. I really do believe that there is more awareness of the huge significance of mental health in our world today than at any other point in living memory.
"This is especially important after two years of lockdown and disruption for all of us; isolation for many; loneliness for many more; and enormous change, challenge and disruption. There is no doubt that challenges associated with mental health have been amplified by the pandemic.
"And a huge amount of work remains to challenge stigma, break down barriers, and provide essential support services."
'There is no Commonwealth without common mental health'
In her remarks, the First Lady of Rwanda, who attended the event as Chief Guest, said:
"It goes without saying, that mental health transcends the health domain. Poor mental health breaks down our communities, by disrupting the wellness of families, poisoning our socio-economic development.
"This haemorrhage of resources, this costly human tragedy, makes one thing clear: mental health is the bedrock upon which the welfare of our communities lies. We cannot allow this foundation to crack, without us joining forces, to solder it"
To improve mental health in Commonwealth member states, the First Lady went on to urge governments to invest more financial resources in mental health research, prevention, skills training and treatment; eradicate mental illness stigma; and deploy effective collaboration between mental health experts across the Commonwealth to build resilient structures of mental health support. "There is no health, without mental health. There is no development, without mental health. There is no brightness in our shared future, without mental health. And, there is no Commonwealth without Common Mental Health!" the First Lady concluded.
The Foreign Minister of Bangladesh, Hon. Dr A.K. Abdul Momen, said:
"Rethinking mental health and addressing social stigma against people affected by mental health disorders has been a personal and national campaign led by the Honourable Prime Minister of Bangladesh, Her Excellency Sheikh Hasina. Under her leadership, Bangladesh has enacted Mental Health Act 2018 and National Mental Health Strategic Plan 2020 over the past three years. Accordingly, Bangladesh will continue to champion mental health at the Commonwealth, the World Health Organization, and other international fora.''
'No health without mental health'
In a special keynote address, the WHO Director-General, Dr Tedros Adhanom Ghebreyesus, said:
"COVID-19 has highlighted the gaps in the capacity of health systems around the world to address mental health conditions. Investment in mental health remains low, and the stigma surrounding it remains high.
"Now, as many countries work to resume services, there is an opportunity to build back better, by scaling up the provision of community-based mental health services and integrating mental health into primary health care, as part of every country's journey towards universal health coverage.
"The links between mental health and public health, human rights and socio-economic development mean that transforming policy and practice in mental health can deliver real, substantive benefits for individuals, communities and countries everywhere.
"Because ultimately, there is no health without mental health."
Ms Saima Wazed Hossain, Advisor to the WHO Director-General on Mental Health and Autism, in her keynote address said that the best way to address mental health is through prevention, including early detection and appropriate management of mental health conditions through a multisectoral approach.
The event follows continued calls from the global health community to address the rising global burden of mental health that has been exacerbated during the COVID-19 pandemic, with lockdowns, global conflicts and economic hardships having substantially increased mental health conditions, particularly among young people, women, children, and health workers. It also takes place after the 34th Commonwealth Health Ministers Meeting, where ministers acknowledged the need to address the rising burden of mental health in the Commonwealth.
With only a small minority of mental health policies in the Commonwealth explicitly referencing equitable funding between services for mental and physical health, a key point of discussion was adequate financing of mental health.
Panellists also shared recommendations on how to address the rising burden of mental health in the Commonwealth, including developing an integrated and cross-sectoral approach, leveraging digital innovations to provide diagnosis and care, and addressing human resource gaps to ensure sufficient resources for mental health services.
Building on the event's discussions, the Dhaka-Kigali Compact on Mental Health was launched as part of efforts to continue to mobilise a Commonwealth-wide awareness campaign with recommended policy interventions to tackle mental health challenges.
These recommendations include:
• strengthening national mental health policies to align with the international legislative standards of the United Nations Convention on the Rights of People with Disabilities
• ensuring mental health provisions account for more than 2 per cent of national health budgets
• challenging stigma and discrimination at community level; and
• integrating prevention, care, treatment and support into the mainstream school mental health programmes.
• addressing the social determinants of mental health in a cross-sectoral and holistic manner to reduce both health and mental health disparities. (End)