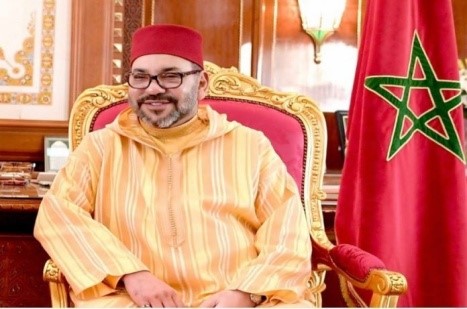 Celebration of the Throne Day
The Kingdom of Morocco celebrates, on July 30th, the 23rd Anniversary of the accession of His Majesty King Mohammed VI to the Throne of his glorious ancestors, a moment of commemoration of a common history, filled with a strong patriotic charge that reflects the perfect symbiosis between the Throne and the people in their march towards the future. The celebration of this Day is an opportunity to reaffirm the perfect symbiosis between the Glorious Alawite Throne and the Moroccan people. Through this glorious occasion, the Moroccan people recall the major achievements made by Morocco under the leadership of His Majesty King Mohammed VI. ________________________________________
H.M King Mohammed VI : 23rd years of progress and realizations
Since the accession of HM. King Mohammed VI to the Throne, Morocco has invested massively in major infrastructure projects which have profoundly transformed the economy of the country. With major achievements such as the TGV, the Tanger Med port or the Noor Ouarzazate Solar Complex, Morocco decided to maintain its momentum of investment in infrastructure with the launch of other large-scale projects such as the Dakhla-Atlantique port, and the new port of Nador West Med.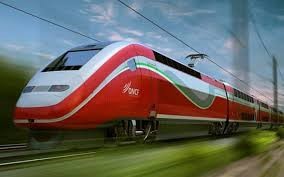 Green Energy
Morocco has become in the last years a green leader country and an example for other developing countries, through the removal of subsidies for fossil fuels and its concentration on renewable energies and the promotion of investments in large-scale infrastructure projects such as solar and wind power plants. Today, Morocco obtains around 30% of its energy needs from renewable sources. This percentage is expected to increase to 52% by 2030.
More than a port, the Tangier Med complex is an integrated logistical and industrial platform, connected to a multimodal transport network (rail links, motorway and expressway).
The Ibn Sina hospital, launched recently, will be a tower that will occupy an area of 130,293 square meters and will be 140 meters high. The construction will have 34 floors and 3 floors below ground level. Inside, it is estimated that it will house around 844 beds, including 706 beds for full inpatient hospitalization and 126 beds for day services.
This year, Morocco launched a major seawater desalination plant project with a capacity of 548,000 m3 per day (200 million m3 per year), This mega-project will strengthen and secure the drinking water supply of part of the Casablanca-Settat region and meet the irrigation needs of a 5,000 ha area.
Moroccan Sahara
Moroccan autonomy plan initiative presented by the Kingdom in April 2007 to achieve a final settlement of the regional dispute over the Moroccan Sahara, is considered as a serious and credible basis for ending the regional dispute over the Moroccan Sahara. In the same time, 27 Consulates have been opened in Moroccan Sahara (15 in Dakhla and 12 in Laayoune).
It is therefore convinced of its strategic interest that Morocco has established South-South cooperation as the main axis of its foreign policy and is working, by various means, to strengthen this cooperation at regional and interregional levels.
Medical Aid to sub-Saharan African countries during the Covi-19 pandemic
During the Covid-19 pandemic which struck the whole world, the Kingdom of Morocco was keen to provide its support and assistance to the countries of sub-Saharan Africa, through the mobilization of medical aid, which was sent on board planes on the Highest Instructions of His Majesty King Mohammed VI to several brotherly African countries, to accompany them in their efforts to fight against the Coronavirus. The aid is part of the Kingdom's active solidarity with sister African countries.
Morocco-Rwanda : A unique Relationship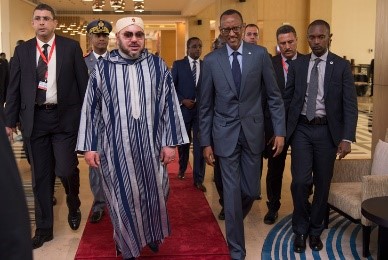 Relations between Morocco and Rwanda witnessed a turning point after the official visit of H.M King Mohammed VI to Rwanda in October 2016, and the official visit to Morocco of H.E Paul Kagame, President of the Republic of Rwanda, in June 2016. Since these visits, more than 45 agreements covering various fields were signed between the two countries and many official visits were exchanged. For this purpose, a follow-up committee was created in January 2020, in order to accelerate the implementation of these agreements, as well as to explore new fields for the development of bilateral cooperation between the two countries. Since then, several cooperation projects are already operational and others will be launched shortly.
________________________________________________________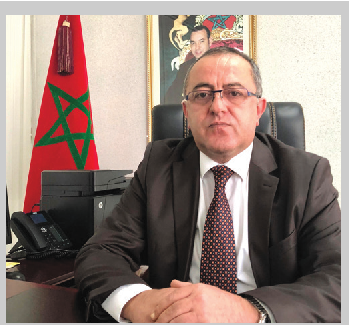 July 30th is one of Morocco's most important days, known as Throne Day, and celebrates the Anniversary of His Majesty King Mohammed VI enthronement, in 1999. It is also an occasion to praise the attachment of the Moroccan people to their King and the Country's unity. Since His accession to the throne, HM King Mohammed VI has launched a number of socio-economic projects, in parallel with a number of political and institutional reforms that HM has undertaken, in response to the aspirations and expectations of his loyal people. So, celebrating the Throne Day is an appropriate occasion to highlight the great efforts made in this regard, on the path of development and progress.