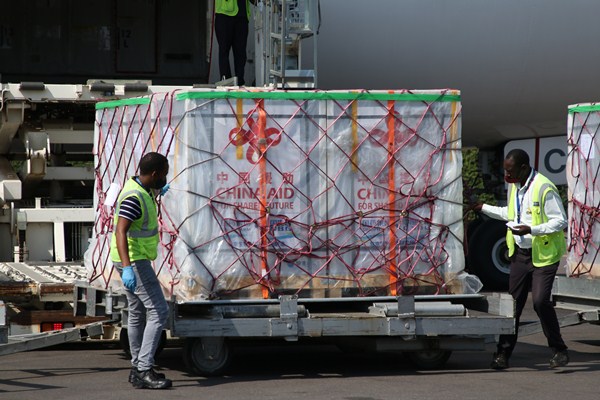 On January 11th,   Rao Hongwei, Ambassador of the People's Republic of China to Rwanda, had a phone call with Vincent Biruta, Minister of Foreign Affairs and International Cooperation of Rwanda, and officially notified the latter that China will donate a total of 4 million doses of COVID-19 vaccines to Rwanda in 2022.
Ambassador Rao first congratulated the Rwandan side on achieving the goal of vaccinating 40% of the population in 2021 on schedule. He said, since the outbreak of the COVID-19 pandemic, China has been vigorously promoting international cooperation in the fight against the pandemic and helping developing countries, including Rwanda, obtain COVID-19 vaccines.
At the just-concluded Eighth Ministerial Conference of the Forum on China-Africa Cooperation (FOCAC), Chinese President Xi Jinping pledged another 1 billion doses of COVID-19 vaccines for Africa countries.
As the Omicron variant is rapidly spreading around the globe, China actively implements President Xi's commitment and decides to donate an additional 4 million doses of COVID-19 vaccines to Rwanda, to further support the Rwandan side in speeding up national vaccination program and better protecting people's health and safety.
China will continue to work hand in hand with Rwanda to defeat the virus at an early date, overcome the negative impact of the COVID-19, and further strengthen bilateral relations.
Minister Biruta, on behalf of the Rwandan Government, expresses sincere thanks to the Chinese Government for the decision on additional vaccine donation.
He said that China, as Rwanda's good partner, has contributed to Rwanda's achieving last year's vaccination target on schedule.
The further assistance will help Rwanda increase the vaccination rate, reach the goal of vaccinating 70% of the population by mid-2022 timely, and greatly boost Rwanda's confidence in COVID-19 response.
Rwanda looks forward to further expanding bilateral pragmatic cooperation and deepening bilateral relations in the new year.
China has provided more than 2 billion doses of COVID-19 vaccines to over 120 countries and international organizations by the end of 2021, making itself the biggest supplier of outbound vaccines among all countries over the world. (End)