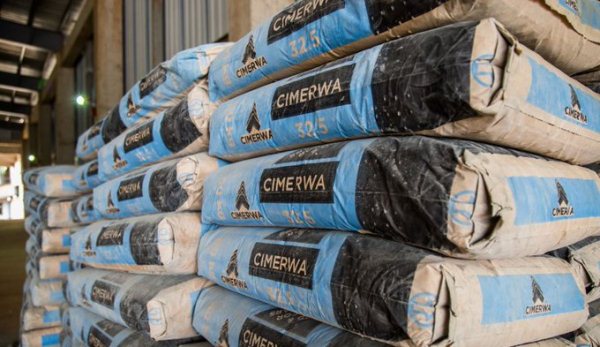 Globally, 2020 was a year ripe with challenges affecting everything from industries, businesses, and individuals. Rwanda's cement manufacturer, CIMERWA Plc,  experienced its own share of COVID induced challenges. However, in spite of this, it is ending the year on a positive note.
Addressing the media at CIMERWA's Annual Financial Report Roundtable held at the Kigali Serena Hotel, CIMERWA CFO – John Bugunya shed light on the company's financial performance.
"The company was able to record strong Earnings before Interest Tax Depreciation and Amortization (EBITDA) of Rwf 16.56 Billion and Profit After Tax (PAT) of Rwf 1.95 Billion. The company's liquidity position remains strong with the liquidity ratio of 2.07 and cash balances of Rwf 13.3 Billion. This puts the company in an excellent position to meet its obligations and to fund its expansion projects." Bugunya explained.
The company has a syndicated debt facility which was obtained for the construction of the new plant commissioned in 2015. This debt facility was Rwf 43 Billion as at 30 September 2020 with maturity due in October 2024.
CIMERWA's sales revenues increased by 1% compared to the previous year, despite a 40-day shutdown of cement production on account of the country-wide COVID-19 lockdown that was put in effect on 22nd March 2020. CIMERWA was able to bounce back strongly with improved production operations, including producing 55 Metric Tons in the month of July, a record in its production history. The Company also made other notable achievements during the fiscal year, including launching its application-based "SURE RANGE" products hence diversifying the product portfolio and also listed its shares on the Rwanda Stock Exchange.
"These set of results demonstrate CIMERWA's strong foundation, resilience and great potential. In response to the exceptional situation of COVID-19 pandemic, the team stepped up to the challenge by putting in place measures to ensure business continuity and protect performance. As the market opened up, we were more than ready to continue supplying our SIMANYARWANDA and stay the course of Strengthening Rwanda. We undertook various initiatives that will have long term positive impact on the business. This includes cost savings initiatives, strengthening the organization and applying innovation to face new challenges. CIMERWA will emerge from this situation even stronger than before." Explains CIMERWA CEO – Albert Sigei.
CIMERWA put aside close to Rwf 40 Million for various initiatives to help the Muganza community and the Country with respect to the COVID-19 challenge. This includes support with essentials such as handwashing stations, food, and masks. In addition, an amount of Rwf 30 Million was pledged by the Company as contribution to the MINEDUC classrooms construction project and the national COVID relief fund.
"We are cognizant of the fact that people are struggling with challenges as a result of this pandemic. The core purpose of our brand is 'Strengthening Rwanda' and, in this period of need, our responsibility to the society is more important than ever before. We are grateful that we could lend a helping hand to a community that has been a major part of our growth story since we started." Added Mr. Sigei.As the Company starts a new fiscal year, Mr Sigei explained the reasons behind his positive outlook for the next year.
"We have a formula that works with a strong team, experienced and committed Board, a resilient business model and supportive stakeholders. These coupled with the fact that we are the only Integrated cement manufacturer in Rwanda gives us a clear advantage to defend our market leadership position. We have various initiatives rolled out to follow the fast growth of the Rwanda cement market and are committed to delivering the best value to our customers and improved performance for our shareholders."
Established in 1984, CIMERWA has over three decades worth of experience as Rwanda's first and only integrated cement manufacturer. The firm's production plant is located in Bugarama, Rusizi District near the South Western border of Rwanda. CIMERWA is the only cement company in Rwanda to mine raw materials, produce the clinker concentrate, pack and sell cement for general and civil construction. CIMERWA is committed to building strong partnerships with leaders and members of the local community. In the process, the firm has helped set up a number of initiatives geared at improving the livelihoods of the people. These include a nursery and primary school, medical clinic, a market, a tailoring workshop and providing them with clean, piped water among many others. (End)
Please follow and like us: