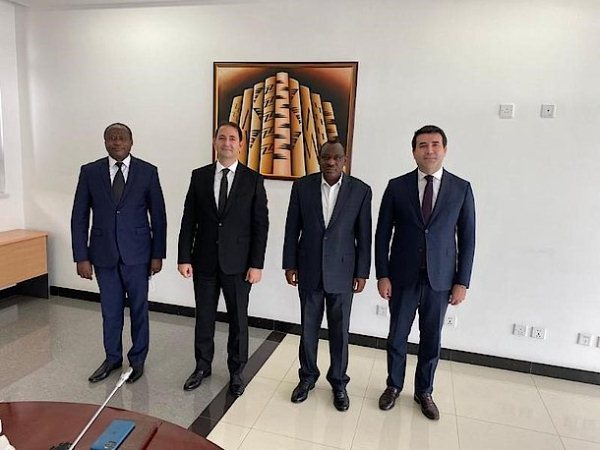 From left; Uzziel Ndagijimana (MINECOFIN), Eng. Tolga Akkas (second left), Claver Gatete of Infrastructure (Middle) & Mr. Kamil ÖZALPE, the CFO – Doğuş Construction Group
On the last day of their visit to Rwanda, Eng. Tolga Akkas, the Chief Executive Officer of Doğuş Construction Group /Turkey together with the Chief Finance Officer of the same company held a meeting with Rwandan officials including; Claver GATETE of Infrastructure, Uzziel NDAGIJIMANA of Finance and economic planning and Mr. Zephanie Niyonkuru, Deputy CEO of Rwanda Development Board and agreed on the framework of the partnership to accelerate infrastructure development.
Among the areas of focus include; the development of Water Treatment Plants, upgrading of the existing ones, roads, bridges; railways development, Airport development and construction, Ports Management and Energy development projects ranging from access, distribution, transmission lines and sub-stations.
Doğuş Construction committed to establishing a regional office in Rwanda and bringing on board the teams to assess all necessary technical aspects of the projects in the various sectors as a move to fast track the implementation process. Both sides brainstormed on the financing of the projects in the pipeline and other mechanisms of working together.
Doğuş Construction Group met various heads of government agencies including Eng. Imena Munyampenda; DG Rwanda Transport Agency(RTDA), Ms Gisele Umuhumuza, CEO of Water and Sanitation Corporation Ltd (WASAC Ltd) and Mr. Ron Weiss, the CEO of Rwanda Energy Group (REG Ltd) respectively.
Doğuş Construction is considered a world-class leader in the construction sector, having completed over 208 mega-infrastructure and superstructure projects since 1951 with a total value of USD 20, 6 billion. The officials from this particular company visited Rwanda from the 21st -23rd October, 2021. (End)