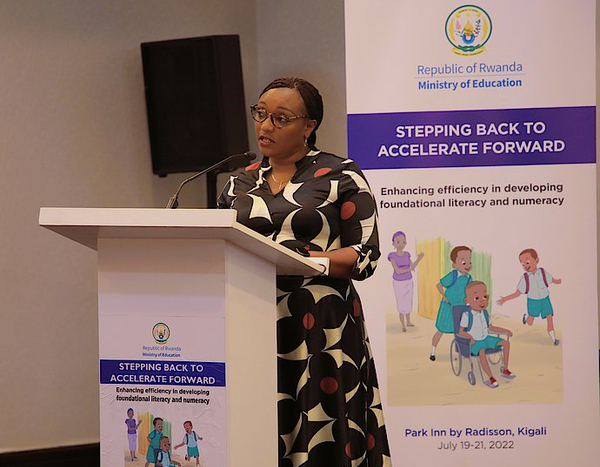 The Ministry of Education convened and held a 3-day high-level workshop at Park Inn by Radisson Kigali Hotel. The event assembled key stakeholders from the education sector and aimed at fostering a focused dialogue on foundational learning in Rwanda by taking stock of past and current initiatives to learn how progress in early learning can be accelerated.
For its second edition, Stepping Back to Accelerate Forward event, offered a unique opportunity to review ongoing initiatives aimed at foundational learning and their impact on enhancing efficiency and accelerating foundational learning. The event also informed the draft National Strategy for Accelerated Foundational Learning, which is currently under development.
Rwanda has achieved almost universal access to primary schools, with a net enrolment rate of 98.9% (2020/21). However, learning assessments continuously reveal that students' learning outcomes still significantly lag age and grade-specific benchmarks.
In her opening remarks, Hon. Minister of Education Dr. Valentine Uwamariya highlighted that Rwanda has "achieved tremendous progress in enhancing access to our education system and we have also drastically increased transition rates to secondary education by putting in place various efforts to address drop-out and repetition to ensure children complete the whole 12 years of basic education. However, we do not stop there. Education is about more than just accessing the schooling system; we need to ensure the foundations are solid as various research has shown that without getting the fundamentals right, we will continue to face learning outcome challenges and ultimately large future income losses along the education chain"
The event, which was supported by the World Bank, gave way to numerous recommendations and resolutions that can help inform the development of a National Strategy for Accelerated Foundational Learning as well as the implementation of the capacity development activities under the Rwanda Accelerator Initiative and the upcoming remedial education interventions under the Quality Basic Education for Human Capital Development.
In her remarks at the "Stepping Back to Accelerate Forward" workshop, World Bank Country Manager Rollande Pryce said that collaboration of Government of Rwanda and partners is one of the hallmarks of success for the reform and continuous improvement of learning in Rwanda.
"We are very excited about the National strategy of foundation learning which is going to be delivered as an output of this gathering. The education sector is something that you must be in long time relationship and commitment as the results are not obtained instantly. The World Bank has recently approved $130M including $30M from GPE to augment resources to quality basic education project which was already on the ground and brought good results in terms of infrastructure and improvement of learning outcomes".
During the discussions, Rwanda Basic Education Board (REB) and the National Examination and School Inspection Authority (NESA) presented and reflected on the progress towards the promotion of foundational learning skills, teacher performance and competency development, and quality assurance systems. Several development partners, including the United States Agency for International Development (USAID) and the United Kingdom's Foreign, Commonwealth & Development Office (FCDO), and UNICEF, discussed and presented the impact and the lessons learned on their multi-year programs targeting the promotion of foundational skills.
These include a focus on foundational learning in lower primary school years, through efficient use of instructional time and increased time for reading and numeracy proficiency. Several resolutions were taken on improved teacher effectiveness, accessibility of textbooks and learning materials and harmonisation of learning assessments. The participants also discussed the need to improve the engagement of parents through guidance provided by schools.
While closing the workshop, Minister of State in Charge of Primary and Secondary Education Hon. Gaspard Twagirayezu thanked participants for being generous with their time, expertise, and willingness to contribute to education development, by particularly putting much emphasis on foundation learning.
"We have renewed our partnerships, working spirits, and commitments as we are all working towards a common goal. This is the appropriate time to have a common road map to ensure everything we do draws the same inspiration for the development of foundation learning. We commit that the Ministry of Education and Agencies will ensure all policy instruments discussed are effectively applied."
Resolutions will be incorporated into Rwanda's National Strategy for Foundational Learning, which will guide the sector and its key stakeholders and development partners on how to enhance foundational literacy and numeracy for all Rwandan children to accelerate their learning and become active and productive citizens in our society and the next work shop of this kind is planed to take place in December 2022. (End)