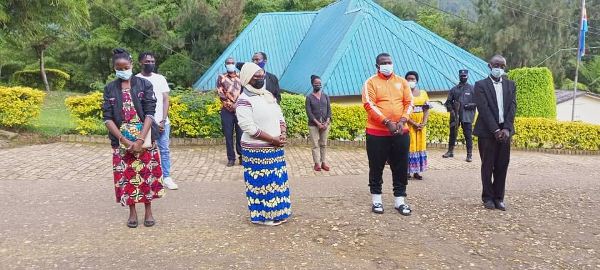 Eleven people including local leaders were arrested at a reception in Bugaragara, Shyorongi Sector, Rulindo District, which was organized contrary to the national directives against the spread of Covid-19.
One of those arrested tested positive for Covid-19. Those arrested include the executive secretary for Shyorongi sector, Jean Vedaste Nzeyimana, Christine Mukashema, who is in charge of civil affairs in the sector and the executive secretary for Bugaragara cell.
Chief Inspector of Police (CIP) Alex Ndayisenga, the Region Political and Civic Education Officer (RPCEO) for Rulindo, said that Police was called in by some concerned residents after it emerged that the event was being held contrary to the directives.
"Dusingizumuremyi Vedaste and Angelique Niyoniringiye earlier that day had a civil marriage and hosted their guests at their home. Residents got concerned about the violations, called the Police and officers found about 15 people at the couple's home but managed to apprehend 11 of them including the two local leaders," said CIP Ndayisenga.
Apart from the couple, he added, none of their guests had a Covid test as required and one of them has so far tested positive
"The local leaders are partly responsible for ensuring the compliance with the national directives against the spread of Covid-19, which they ignored," the DPCEO said.
He thanked residents, who reported the violations.
"This is not time to lean back or be carried away by emotions or friendship. As local leaders, you have to be responsible. First, the couple did not notify authorities seven days prior and local leaders did not bother to ask if all people in attendence during the civil marriage they conducted, had covid-19 negative tests."
All the violators have been isolated.(End)