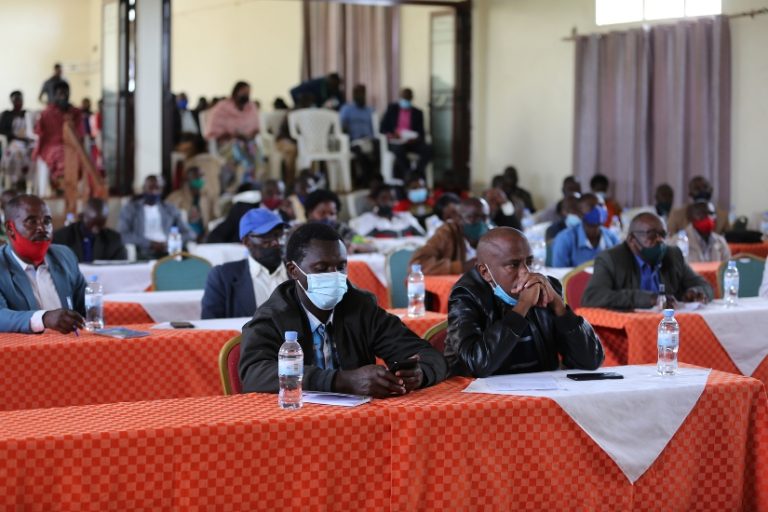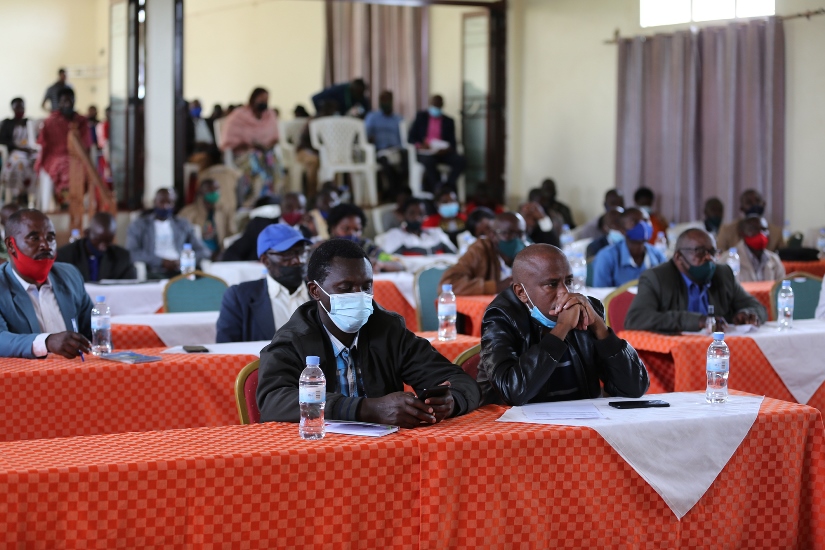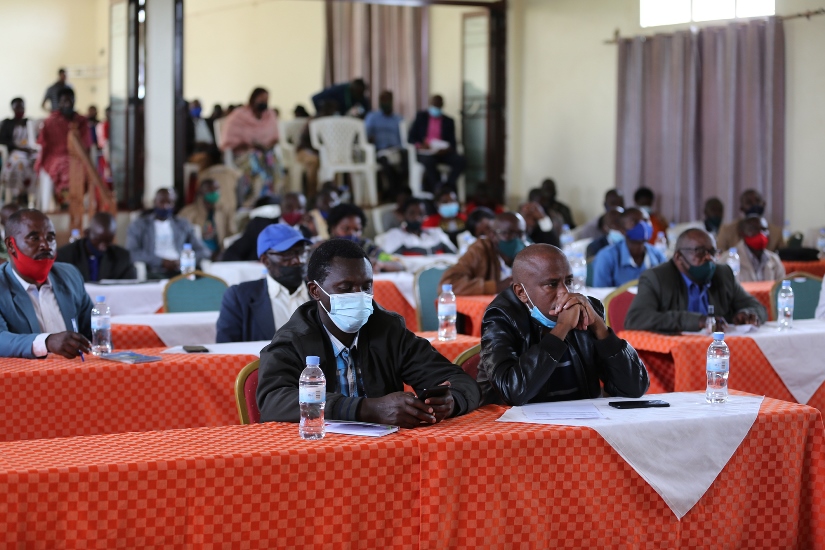 Farmer cooperatives from the Eastern Province working under the Farm to Market Alliance (FtMA) met stakeholders including buyers and financial institutions in a one-day interactive meeting organised by Rwanda Development Organization (RDO) and Rwanda Rural Rehabilitation Initiative (RWARRI) with support from the World Food Programme (WFP).
The meeting held at the Eastern Country Hotel in Kayonza on November, 30 2021 brought together farmers from the districts of Kayonza, Rwamagana, Ngoma, Kirehe, Bugesera, Gatsibo, and Nyagatare to review progress and make commitments to stakeholders.
Top on the agenda was to review the achievements of the past seasons, share lessons learnt and challenges faced while chartering better linkages for the early market readiness of 2022A season.
Diana Mugwaneza, the Programs Officer at RDO said that the meeting had been delayed because of the prolonged dry spell that farmers faced but was important to meet to reestablish commitments so that farmers can sell their produce.
She said that all concerned stakeholders were invited to renew their commitments with farmers, these include cooperatives, big buyers, banks and insurance companies. This also provides the opportunity to sign contracts.
Mugwaneza said that the meeting was also intended to discuss how to increase productivity, revealing that FtMA was helping in market linkages and more cooperatives had joined the platform.
Cyprien Muhayimana, the Director of Agriculture and Natural Resources at Kayonza District welcome all for conducting the meeting in his district and called on farmers use the opportunities provided by FtMA mainly access markets.
Farmers got the opportunity to ask questions which mostly focused on the difficulties they have been encountering on the market. Among the highlighted issues were late payments from the buyers, issues of how to use EBM (electronic billing machine) to make tax invoices and buyers that have failed to pay cooperatives.
The meeting provided an opportunity to discuss these issues where farmers were assured by the buyers about making payments in real time. Many of the buyers provided the timeline when farmers can always expect their payments and discouraged farmers to work with unknown buyers but work with credible companies with contracts made under FtMA.
On the use of EBM, farmers were advised to register with Rwanda Revenue Authority (RRA) but since many lacked knowledge they were promised advocacy to concerned authorities to help them.
The meeting also heard testimonies from farmers on how the platform is helping them improve productivity, provide information and link them to markets.
"Before we joined FtMA we never had a ready market for our produce, we are happy that RDO linked us to buyers through FtMA, we can now sale whatever we can produce," said Seraphine Uwitanze from Ubumwe Gatonde Cooperative in Ngoma District.
Uwitanze says that having access to big markets has changed their lives and led to the growth of their cooperative.
Dansira Uwamaria, the president of COOPCUMA cooperative in Rugarama, Gatsibo District said that her cooperative grew both in production and value, it keeps growing every year thanks to the available market created by the FtMA.
She revealed that they started with shareholding of Rwf.2,000 but have grown this to Rwf.75,000 and the cooperative is able to give out dividends to its members every year.
FtMA platform offers market linkages in a sustainable way and brings along various partners including farmers, cooperatives, buyers, financial institutions, agri-focused organisations and non-governmental organisations that support farmers.
During the event, thirteen best performing cooperatives were awarded with prizes to recognise and motivate them. Awarded prizes included weighing machines, moisture content checking machines and tarpaulins to help farmers improve their harvests.
FtMA is the only initiative in the maize sector to have connected farmers through forward delivery contracts to the largest commodity buyers in the country. The initiative is making present financial solutions scalable through introducing third party guarantors and training farmer organisations on governance and financial practices. The commitment of buyers is further strengthened through the promotion of increased adoption of advanced post- harvest handling and storage technologies amongst farming communities.