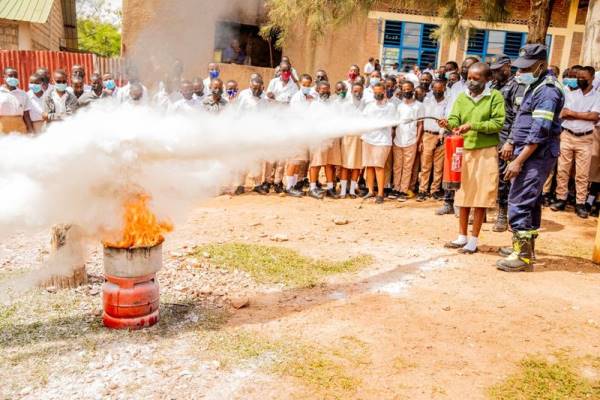 Fire safety education is extremely important to ensure the safety of people in homes, schools and places of work.
Fires damage or destroy property, cause injury and death. The way to prevent these dire outcomes is proper fire safety education and training.
This is why the Rwanda National Police (RNP) Fire and Rescue Brigade (FRB) has prioritized fire safety education to prevent or mitigate such hazards.
Since last year, FRB has been educating and training different groups of people on fire safety, including medical workers and staff in health facilities, security personnel, and traders in commercial buildings, market places, bus terminals and employees in other institutions.
On Wednesday, May 11, the FRB shifted the fire safety awareness in schools.
"Children or young people learn very fast and this is one of the best ways to influence behavioral change in the way they handle electric equipment," said Assistant Commissioner of Police (ACP) Paul Gatambira, the commanding officer for FRB, said.
The awareness campaign started at Lycee De Kigali before it was extended to students of Butamwa College and Groupe Scolaire Kigali on Thursday and Friday, respectively. It combines theory and practical sessions on the causes and components of fire, safer measures against fire and how to use different firefighting gadgets to put out fire.
"Today, the majority fires in homes result from cooking gas. So, in this awareness, which will be extended to as many schools as possible across the country, focuses mainly on how to use cooking gas safely in homes, how to respond to the fire using different types of extinguisher and fire blanket, but also evacuation procedures. The idea is that these students, when they go back to their homes, they will put the knowledge and skills into practice but also teach family members," said ACP Gatambira.
He added that during this safety education in schools, they will also create fire safety clubs to carry on with the awareness in their respective schools.
At least 123 cases of fire occurred last year across the country, with the majority resulting from gas.
Since the beginning of this year, close to 70 fire cases have been registered. The majority fire emergency cases were recorded in City of Kigali. (End)