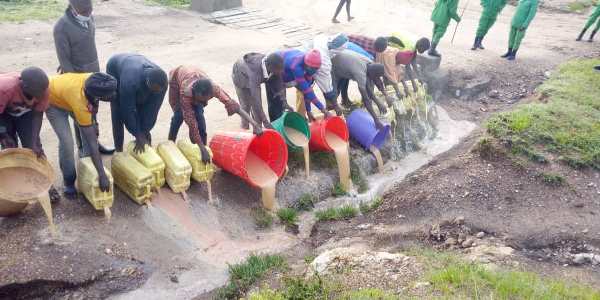 Article 5 of the Ministerial order Nº 001/MoH/2019 of 04/03/2019 establishing the list of narcotic drugs and their categorisation classifies alcoholic drinks produced without complying with standards and other laws;  on the list of simple narcotic drugs.
Rwanda National Police (RNP) has continued to enforce the law to fight production and distribution of these assorted psychotropic substances.
The fight involves both awareness and operations against producers including destroying illegal distilleries.
On Friday, December 31, RNP arrested five people in Akintare Village, Murinja Cell, Kigoma Sector of Nyanza, who were producing and supplying illicit brew.
They were caught with combined 800 litres of an illicit drink called Igikwangari, according to Superintendent of Police (SP) Theobald Kanamugire, the Police spokesperson for the Southern region.
"Police recovered 200 litres of Ibikwangari from the home of Charles Munyaburanga, 44, 200 litres from the house of Donatha Nyinawumuntu, 34. Other 300 litres were seized from the homes of Theogene Butera, 42, and Angelique Mukanyandwi, 23. More 100 litres were seized from Jean Baptiste Ndayishimye, 27," said SP Kanamugire.
He thanked residents, who shared information that led to the arrest of the producers and seizure of the substances.
Article 263 of the law determining offences and penalties in general states that; any person who, unlawfully produces, transforms, transports, stores, gives to another or who sells narcotic drugs and psychotropic substances, commits an offence.
In regard to simple drugs, the offender is liable to imprisonment for a term of not less than seven years and not more than ten years and a fine of not less than Frw5 million and less than Frw10 million.(End)