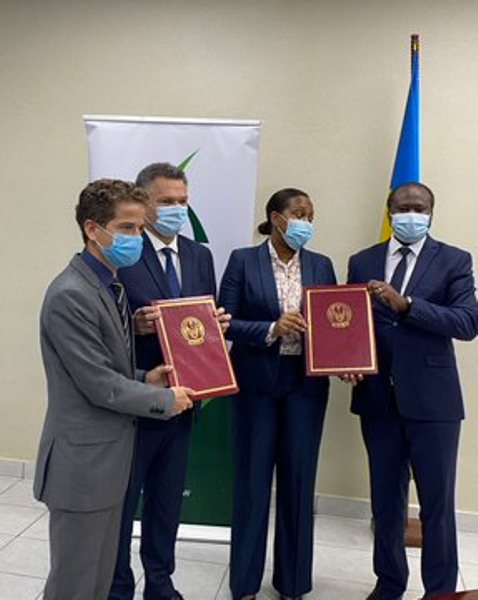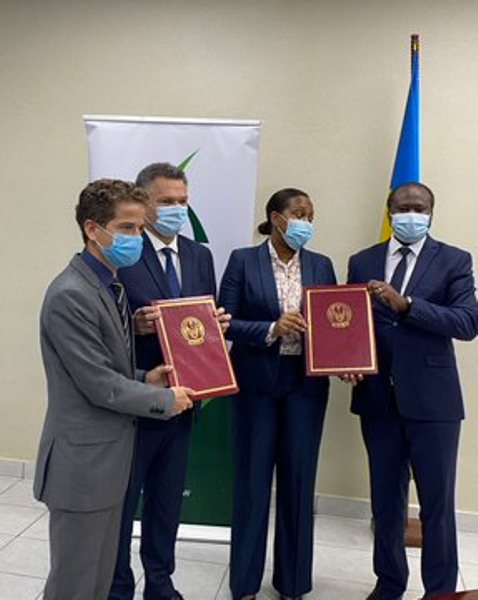 On Friday February 18th, Ms. Kampeta Sayinzoga, CEO of the Development Bank of Rwanda (BRD) and Mr. Arthur Germond, country Director of the Agence Française de Développement (AFD) in Rwanda, signed two financial agreements totaling 20.5 million EUR  (24.3 billion RWF), aimed at supporting BRD in the rapid delivery of its development objectives. The signing ceremony was chaired by Honorable Dr. Uzziel Ndagijimana, Minister of Economic Planning and Finance of Rwanda and the French Ambassador, H.E. Antoine Anfré. 
A 20 million EUR (23.7 billion RWF) long-term credit facility from AFD is dedicated to accompanying the growth of BRD's lending activity with clear agreed development targets. The credit facility allows BRD to access funding on a period of 13 years. This facility will further enable BRD to provide affordable loans to Rwandan Small and Middle enterprises, with an extended maturity of up to 15 years for Government priority sectors.
An additional 0.5 million EUR grant (592 million RWF) from AFD will specifically finance technical assistance to enhance BRD's capacity to fulfill its mandate, in order to reach the following purposes:
• Strengthening the strategic positioning of BRD as a development bank, enabling it to create additionally in the Rwandan financial sector, and promote sustainable growth in the priority sectors of the national economy.
• Reinforcing the bank's risk management and financial steering capacities, in line with its future strategy.
• Increasing BRD's developmental impact by supporting its positioning as a green bank through the definition of a climate strategy and the development of its environmental and social risk management and monitoring practices.
The Agence Française de Développement (AFD) Group implements France's policy on development and international solidarity. Comprised of AFD, which finances the public sector and NGOs; Proparco, which finances the private sector; and soon, Expertise France for technical cooperation, the Group finances, supports and accelerates transitions towards a more resilient and sustainable world.
AFD is building shared solutions with his partners. AFD's teams are active in more than 4,000 projects in the field, in the French overseas departments and some 115 countries, including areas in crisis.
AFD strives to protect the common good – promoting peace, biodiversity and a stable climate, as well as gender equality, health and education. It's AFD's way of contributing to the commitment that France and the French people have made to fulfill the Sustainable Development Goals. Towards a world in common.
For more than five decades, BRD has been the sole provider of long-term finance and has significantly facilitated the emergence of different productive enterprises in the private sector. Over the past two years, the bank has been repositioning itself to support long-term growth and financial stability.
The Bank is rated by Fitch as "B+" as well as "A with Strong Development Impact" outcomes by the Association of Africa Development Finance Institutions (AADFI).
BRD operates in seven key priority sectors of Agriculture, Energy, Affordable Housing & Infrastructure, Manufacturing & Exports, Education and Digital Economy to deliver maximum development impact while creating value for all stakeholders. The Bank's business model was adapted towards value chain financing as opposed to a narrow approach to work with stakeholders to identify and address various market failures that may hinder development. (End)