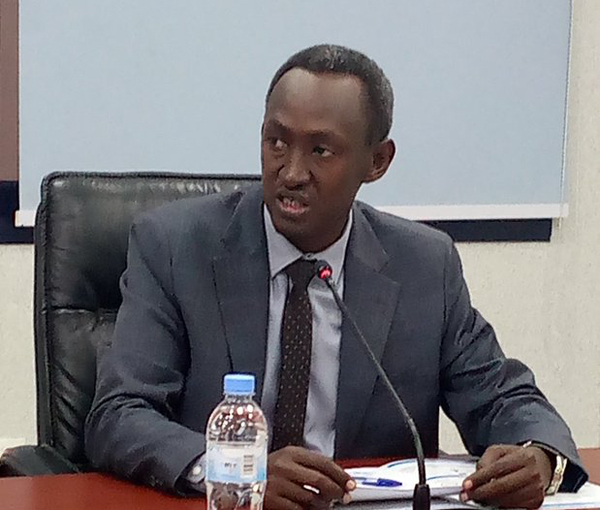 Ivan Murenzi, Deputy Director General of the National Institute of Statistics
Rwanda's GDP (Gross Domestic Product) grew by 7.9% in the first quarter of 2022 compared to the first quarter of 2021, announces the National Institute of Statistics. 
"Agriculture increased by 1%, Industry by 10% and Services by 11%." according to Ivan Murenzi, Deputy Director General of the National Institute of Statistics.
"Key contributors to growth in the 1st quarter include: services 47%, agriculture 23%, and Industry 22% while net direct taxes accounted for 8% Economy", said Ivan Murenzi.
Service sector increased by 11 percent. Within the Services sector, Information & communication services increased by 17 percent, Professional, scientific & technical activities increased by 5 percent, real estate activities increased by 5 percent while Education increased by 2 percent.
Moreover, Human health & social work activities increased by 22 percent, Hotel and restaurant services by 80 percent, Administrative and support services by 6 percent and Public administration and defense; compulsory social security by 7 percent.
Agricultural activities grew by 1 percent and contributed 0.6 percentage points to overall GDP growth. Within agriculture, the production of food crops decreased by 1 percent and the production of export crops increased by 14 percent too
Industrial activities grew by 10 percent and contributed 1.86 percentage points to GDP growth. The main contributors in the industry sector were Construction activities which grew by 6 percent and Manufacturing activities which grew by 11 percent. Mining and Quarrying activities also increased by 16 percent.
The growth in Manufacturing activities is due to an increase of 6 percent in food processing, 12 in Beverahes and tobacco, 20 percent in Wood & paper; printing, 19 percent in production of Chemicals and plastic products and 22% in Textiles.
In the first quarter of 2022, total final consumption expenditure increased by 3 percent, with Household final consumption declining by 2 percent while Government final consumption increased by 25%. Exports increased by 51 percent, imports decreased by 5 percent while Gross Capital Formation increased by 1 percent. (End)