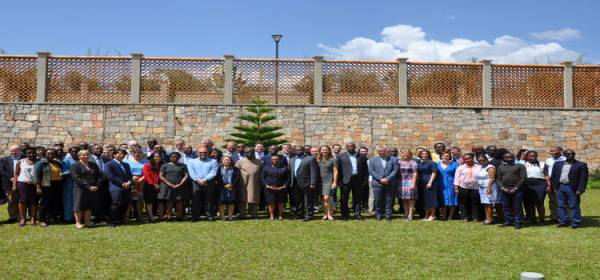 Kigali: The Fifteenth Annual Development Partners Retreat (DPR), an annual meeting of Government of Rwanda officials and Development Partners kicked off today in Nyagatare District.
Held under the theme "Partnerships for Rwanda's Transformation" the retreat will review and discuss progress in implementing the National Strategy for Transformation (NST1) and key sector policies of Rwanda, as well as examine the implementation of the Development Performance Assessment Framework (DPAF) and other commitments to accelerate aid and other financial flows' delivery and quality.
The retreat serves as an opportunity to address issues that may have not been tackled at the quarterly Development Partners Coordination Group (DPCG) meetings and to have an open dialogue between Government of Rwanda and its Development Partners on the development priorities and challenges in meeting them. It set's the agenda and guide the Government of Rwanda-development partners' dialogue over the year.
The 2019 retreat was preceded by field visits where participants toured several development partners funded projects in agriculture and infrastructure to witness firsthand how they have impacted the lives of Rwandans.
The Minister of Finance and Economic Planning Dr. Uzziel Ndagijimana who is the chair of the DPR pointed out that the field visits will contextualize discussions drawing from realities on the ground.
Minister Ndagijimana underscored that the achievements witnessed during the field visits whether in transport, agriculture or industrialization were in one way or the other benefited from development partners.
"We believe that the field has given most of us the experiences and testimonies that we can build on to further strengthen our partnership in transforming the socio-economic welfare of the people we serve," Minister Ndagijimana said.
UN Resident Coordinator Fode Ndiaye, the co-chairman of the Development Partner Retreat acknowledged Rwanda's clear vision which is translated into policies, strategies both at national levels and at district level. He noted that the clear direction and good coordination mechanisms with the study on Aid Policy create a conducive environment for meaningful partnership, that should be seen not only with the development partners but also with the private sector and the civil society.
"Our work together at the Development Partners Retreat, Development Partners Coordination Group, Sector Working Groups, at district levels both as a group but also as institutions or government is yielding results that we need to consider as building blocks to have an impact on people's lives leaving no one behind," UN Resident coordinator Ndiaye said.
The retreat will focus on several key topics which will include National Strategy fot Transformation financing needs, boosting public and private, domestic and external financing, the Rwanda Civil Society 5-year strategic plan and the Future Drivers of Growth. It will also tackle the 2017/18 DPAF results as well as new policy commitments in support of Rwanda's development.
The 2019 DPR will draw on the key takeaways from the 'Future Drivers of Growth in Rwanda' study and will identify how development cooperation can support each of these growth drivers to accelerate their ability to contribute to Rwanda's transformative agenda. (End)