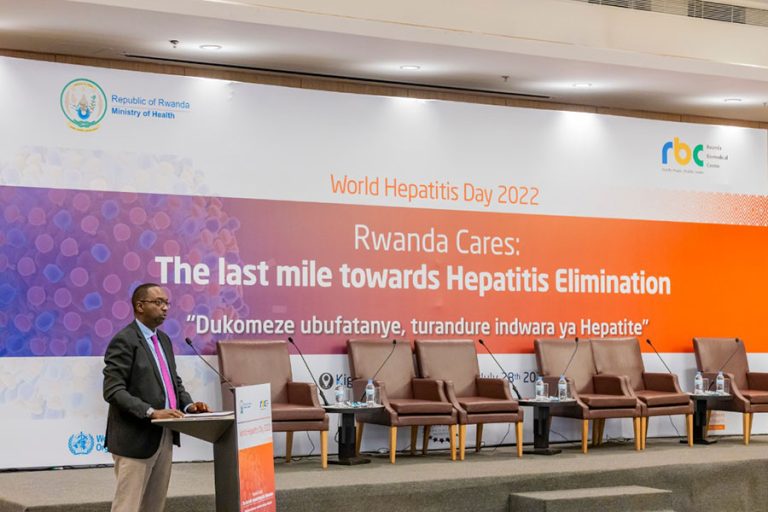 The Minister of Health Doctor Daniel Ngamije 
The Ministry of Health, Rwanda Biomedical Centre and several government's health development partners came together and joined the rest of the world's efforts to celebrate World Hepatitis Day.
Several partners, government officials and programs beneficiaries have commended Rwanda for being on the last mile to eliminate Hepatitis in Rwanda, after listing several of its milestones to mitigate the disease.
The estimated prevalence of chronic Hepatitis C and B has dropped from 4 percent and more than 3 percent in 2015 to less than 0.39 percent and 0.35 percent respectively in 2022.
Rwanda was selected among seven countries that were assessed for hepatitis elimination validation readiness and was qualified to be on track for hepatitis C elimination.
The other countries are England, Brazil, Egypt, Thailand, Georgia and Mongolia. The country has also negotiated a price record from $1,200 to only $60 for the full three months' treatment course of hepatitis C.
Among other milestones, Rwanda simplified the diagnostics and treatment methods by introducing Rapid Diagnostic Tests (RDTs) providing results in 20 minutes and Direct Acting Antiretrovirals (DAAs) for a three month HCV treatment course with less or no side effects and a cure rate of more than 90%.
The figures from Rwanda Biomedical Centre indicate that more than 7,000,000 people including children have been screened against Hepatitis C and 60,000 of them have been treated and cured.
Additionally, more than 7,000,000 people have been vaccinated against Hepatitis B as 4,000,000 have been vaccinated and 60,000 were treated and cured from the disease.
The treatment and testing services have also been decentralized at different levels including referral, provincial and district hospitals as well as different health centres across the country, among other achievements.
Speaking at the event, Doctor Daniel Ngamije, the Minister of Health, has asserted that strategies used have proved that diagnosis and treatment of the viral hepatitis is possible.
"To date, progress made in development of new Hepatitis C therapeutics assures that Hepatitis C can be easily diagnosed and treated using simplified methods", he commented.
"Similarly, Hepatitis B vaccine in new-born and adults are proven to prevent transmissions especially mother to child therefore these services should not be considered as a luxury, rather, they need to be decentralized, institutionalized, and integrated in the routine care".
The Minister added: "We are on track for hepatitis elimination, the journey is still long but targets are within our reach and with our collective efforts we can achieve the hepatitis elimination."
The World Health Organization Representative in Rwanda, Dr. Brian Chirombo hailed the government's efforts on reaching the last mile and stressed that the remaining miles shall also be achieved, courtesy to the efforts demonstrated by Rwanda.
"Rwanda has been among proactive countries that negotiated for the medication of Hepatitis to be decreased and we are hopeful due to the capacity demonstrated, that even the remaining achievements shall be registered," he observed.
Medical practitioners consider Hepatitis as a silent killer as it has claimed about 125,000 deaths on the African continent despite the availability of treatment.
Talking on behalf of civil societies that also played their role in elimination of this viral disease, Dr. Constance Mukabatsinda expressed gratitude to the government for the significant milestone.
"On behalf of the patients, we are proud of the government's efforts towards eliminating hepatitis, we had to pay 12 million to get treatment but currently, it is free, we've gone a long way and now we need to focus on eradication not elimination," she announced.
In Rwanda, a national plan for Viral Hepatitis C (HCV) elimination was launched in December 2018, with the goal to screen 7 million people aged 15 years and above and treat all positive cases, which aimed to reduce the HCV prevalence from 4% to 1% in less than 5 years.
Medical practitioners consider Hepatitis as a silent killer as it has claimed about 125,000 deaths on the African continent despite the availability of treatment.
By launching the HCV national elimination plan, Rwanda is the first country in sub-Saharan Africa to have done so.
Globally, Hepatitis is a global health issue that causes a high burden in morbidity and mortality.
The World Health Organization (WHO) estimates both viral hepatitis B and C to cause 1.1 million deaths every year with 1 person dying every 30 seconds and 3.0 million new infections occurring every year. (End)