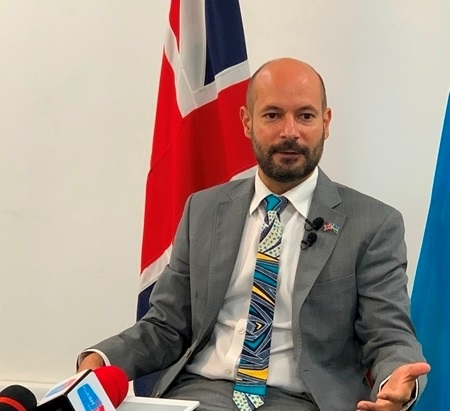 UK High Commissioner in Kigali, Omar Daair.
Today 17th May is an International Day for homophobia, biophobia and transphobia, meaning LDGB Day, and yesterday evening, UK High Commissioner in Kigali, Omar Daair, organized a reception for guests and representatives of LTGB groups to celebrate IDAHOBIT, and he delivered a message encouraging LGTB community to work together for their rights. Read below his message:It is wonderful to have you all here at our home on the eve of IDAHOBIT. On International Women's Day, HE President Kagame said that equality is a right, not a favour. I certainly agree with him. I believe that applies to all of us, everywhere. And that's what were here to celebrate.
Around the world homophobia, biophobia and transphobia continue to rear their ugly heads. This is certainly not a problem that exists only in Africa. In several EU countries we have regression in attitudes towards this community, and even in my own country homophobic attacks have been on the rise.
What we are here today to say is that this community deserves respect like any other, this community deserves freedom like any other, and this community deserve equality like any other.
Here in Rwanda I think we are seeing progress. The Constitution already outlaws all discrimination based on identity, which includes LGBT people. And I feel there is growing understanding between the community, the government and other elements of society. I know this week there are going to be several big IDAHOBIT events, and I think that's a great sign of the growing confidence of this community in Rwanda.
But of course, this is a journey. As elsewhere around the world, here in Rwanda there is still work to do. And I know so many of you are doing that hard work every single day. You are raising awareness, educating people. You are pressing for better media reporting of LGBT issues; you are role modelling how an LGBT person can live with pride. I strongly congratulate you for all that.
And the British High Commission, like many of our partners represented here today, is proud to walk with you on that journey. This year we supported projects such as work on documenting abuses against this community and I was really happy recently to meet the motivated paralegals they trained. In this coming year, we have further funding available for projects that help advance LGBT rights so please do stay in close touch with my team about that.
But in the end this journey is not about muzungus, it is about Rwandans. It is you – all of you – who must lead this effort and guide us in how best to support you. In taking forward your work I offer some advice I previously gave to those paralegals I just mentioned. First, think about the context you work in, you should be determined, yes, but always remain respectful of those you are engaging. That is the best way to find allies and build support. Second, celebrate the small wins. No journey is every completed in one big jump. It is a million little steps along the way. Finally, look after yourselves and each other. Being an activist is often difficult, so support others in the community, think about how you can do more together, and give yourself a break when you need it.
I also wanted to direct a message to those who are not members of this community. Sometimes we hear accusations that LGBT issues are western issues. Growing up in the Arab world I remember hearing things like that. But let me tell you, LGBT people exist in every community in every country around the world. LGBT people have created some of the greatest works of art or literature, and contributed to some of the most groundbreaking ideas of our time. If you allow this community to flourish, we all flourish.
And really, what is the alternative?
Everyone who has hidden their true selves, who has denied who the really are will have their own way of describing what that feels like. But for me I see it like this: to have to hide who you are is like being under water, deep in the ocean. You can look up and see the light of the sun above but you remain hidden in those dark waters. You think maybe coming out into the light will be dangerous, maybe people will hate me. But then you realise you cannot breathe. You cannot breathe underwater and you cannot breathe while living a lie. So, you have to try. You have to swim up, to struggle to come out into the light. And when you get there, you say this is me, this is who I am, and I need to free.
So tonight, let's celebrate freedom. Let's celebrate L for love. Let's celebrate G for generosity. Let's celebrate B bravery. And – most importantly – let's celebrate T for together. Let's do this together. Not just the L and the G and the B and the T and all the other letters. But all of us. All of us. We are one people. We will breathe together. We will succeed together. (End)