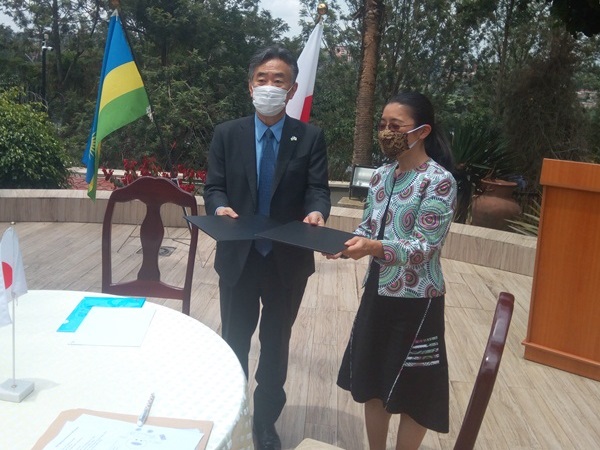 Kigali: H.E. Mr. Masahiro IMAI, Ambassador of Japan to Rwanda, and Mr. Paul MURENZI, Legal Representative of Association Rwandaise pour le Developpement Endogene (ARDE), signed a grant contract for water facilities construction project today.
Under the framework of Japan's Grant Assistance for Grassroots Human Security Project (GGP), the Embassy of Japan will provide USD 81,788 to ARDE, which will construct a water system of 4.37 km of water pipe, 2 water kiosks, 1 water tank, 6 valve chambers, and 2 public taps, for about 7,900 people in and around Rega Cell, Bigogwe Sector, Nyabihu District.
Under GGP, the Government of Japan provides grants to NGOs, schools and local authorities for their development projects. For the last 22 years, 108 projects in the areas of education, water and agricultural development were supported in Rwanda.
On the same day, another grant contract was signed between the Embassy of Japan and Ms. Yuko YOKOMIZO, Project Coordinator for Community Road Empowerment (CORE). Under the Grant Assistance for Japanese NGO projects framework, this three-year-project will improve feeder roads with locally available materials in 16 districts.
For this work, Japanese labor-based technology for road repairing called "Donou" will be introduced to local road maintenance cooperative or group members, which will be further transferred to other local community members. The Government of Japan will provide USD 334,744 for the first year of this project.
During the ceremony, Ambassador Imai said that he is proud to support the two projects, which play a significant role in the improvement of living environment and conditions of local communities in Rwanda.
He appreciated the work of NGOs that not only try to develop these areas, but also put into action the support and encouragement to the people, and he hoped for a successful implementation of the both projects. (End)