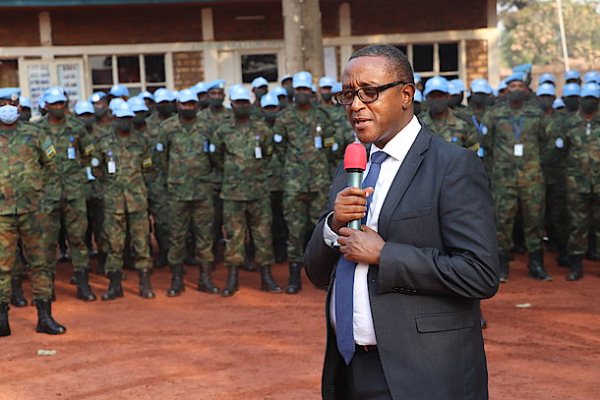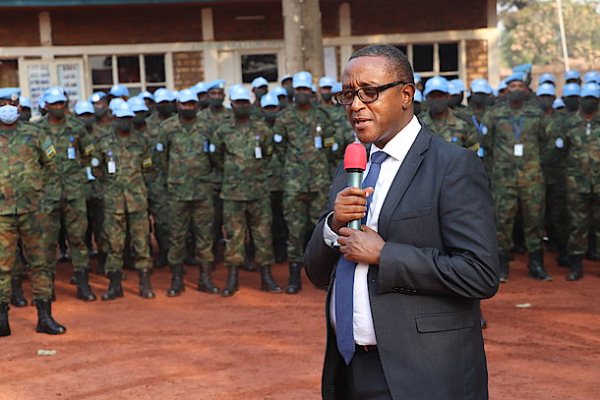 Minister Biruta visits RDF troops in CAR
Minister of Foreign Affairs and International Cooperation, Hon Vincent Biruta visited Rwanda 57 Task Force Battalion at their Headquarters, Nzilla- Camp, Bangui, as well as Rwandan peacekeepers (Rwabatt 8 & Rwabatt 9) at Socatel Mpoko, Bangui in Central African Republic respectively on 13th and 14th January 2022. He was accompanied by the Head of Defence Intelligence, Brig Gen Vincent Nyakarundi.
Minister Biruta conveyed a message from HE President Paul Kagame, the President of the Republic of Rwanda and Commander -in- Chief of the Rwanda Defence Force, wishing them a happy new year and thanking them for fulfilling their mission with discipline and professionalism in Central African Republic.
Minister Biruta updated the Forces on current security situation in Rwanda and also on efforts the country has made in fighting the Covid-19 pandemic including giving vaccines to the population. He also briefed them on current relations between Rwanda and neighbouring countries.
The Head of Defence Intelligence, Brig Gen Vincent Nyakarundi urged the Forces to remain very determined in accomplishing their tasks.
Rwanda Defence Force is the largest troops contributor to the United Nations Multidimensional Integration Stabilization Mission in Central African Republic.(End)