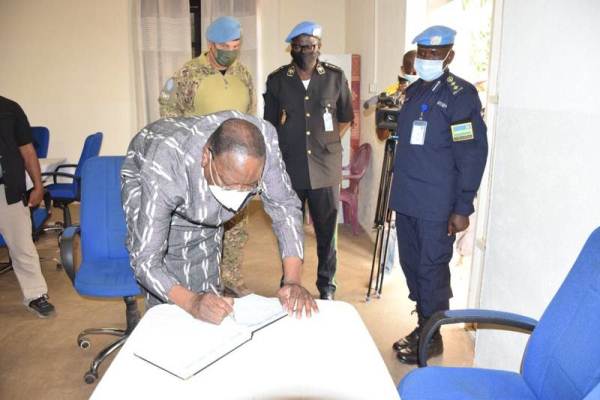 The United Nations Special Representative of the Secretary General to Central African Republic (CAR), Dr. Mankeur Ndiaye, on Tuesday, December 21, visited Rwanda Formed Police Unit-One (FPU 1-7) operating in Bangui under the UN Multidimensional Integrated Stabilization Mission in the CAR (MINUSCA).
The Head of Mission was received at the FPU-1 base camp by the contingent commander, Chief Superintendent of Police (CSP) Claude Bizimana, who briefed him on the tasks assigned, achievements as well as challenges encountered.
The SRSG also toured various facilities of the camp, observed the officers' readiness and how they conduct their operations.
Dr. Ndiaye thanked them for their dedicated service to protect the civilians and to restore peace and security in CAR.
"Your high level of discipline and professionalism in the last eight months of your tour-of-duty is appreciated. Maintain the spirit towards the end," the Head of Mission said.
He further urged them to stay focused, avoid involving in any inappropriate behaviours such as sexual exploitation and abuse, which can tarnish the image of their unit, country and the UN.
The SRSG reassured MINUSCA support to address challenges they may be facing and to successfully accomplish their peacekeeping duties.
Rwanda FPU-1 is one of the three Rwandan Police contingents deployed in CAR with combined strength of 460 officers.(End)