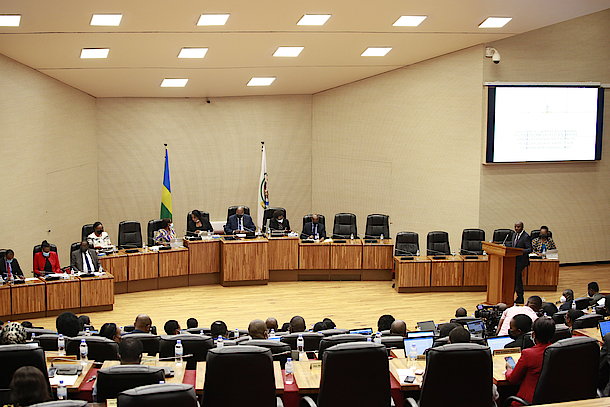 Members of the Parliament commended the Government's efforts aimed at boosting the education sector especially by improving teachers' social welfare, constructing classrooms, school-feeding programs and other many government programs intended to upraise the quality of education in Rwanda. 
The Parliamentarians made this statement after being briefed by Prime Minister Dr Edouard Ngirente in a joint plenary Sitting on the achievements of the government in basic education in line with the National Strategy for Transformation (NST1).
Prime Minister Dr Ngirente Edouard informed Members of Parliament that the Cabinet of 29th July 2022 took the decision to inject 5,000,000,000 FRW in the Teachers' Cooperative commonly known as "Umwalimu SACCO" to increase its liquidity to ensure access to finance by teachers.
He also revealed that teachers' salaries have been increased, as part of Government efforts to improve teachers' welfare.
Prime Minister also said that the Government has increased the budget for the school feeding program from 35 billion in 2021/22 to 42 billion this year 2022/23. This is an increase of 20%. He called upon parents to actively get involved in this program for its successful implementation.
The PM also stated that the government will continue to pay part of the education cost for Teacher Trainees in TTCs and for teachers who decide to pursue pedagogy and a teaching career upgrade at the university level- these will continue getting an unreimbursed bursary.
Article N0 133 of the Constitution of Rwanda of 2003 revised in 2015, stipulates that once in a session of Parliament, the Prime Minister comes to inform both Chambers of Parliament in a joint sitting, about Government activities. (End)