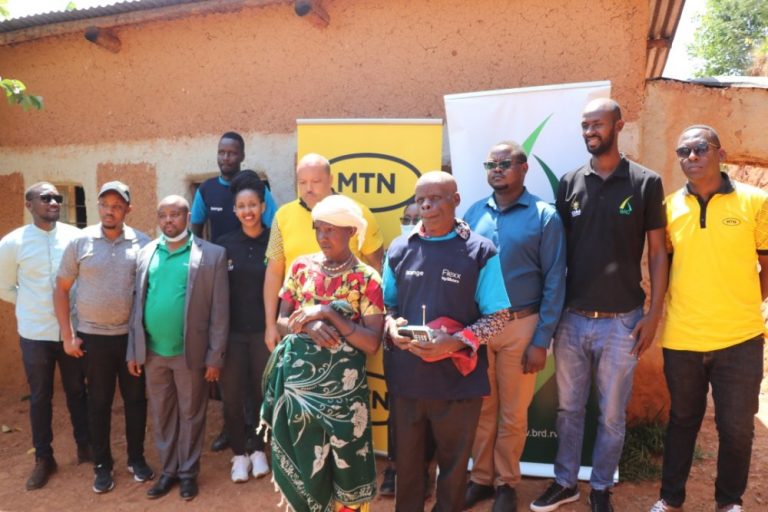 MTN Rwandacell PLC (MTN Rwanda) has joined Rwanda Development Bank's (BRD) Cana Challenge campaign by donating Ten Million Rwandan Francs that will connect seven hundred (700) underserved families to green energy in Nyamiyaga Sector, Gicumbi District.
The #CanaChallenge campaign, that commenced in December 2021 on social media, invites individuals and organizations to voluntarily contribute to "Light up a Rwandan family". Thereafter, contributions are utilized to purchase and install home solar system for families in Ubudehe Category 1.
Access to off-grid electricity contributes to the country's sustainable development agenda that targets 100 per cent of households' access coverage to electricity by the year 2024. As of October 2021, the connectivity rate stood at 67.1 per cent of Rwandan households consisting of 48.6 per cent connected to the national grid and 18.5 per cent to off grid systems, mainly solar energy.
Speaking at the handover ceremony, Alain Numa, MTN Rwanda's Acting Head of Corporate Affairs said : "We are honoured to contribute to brightening the lives of 700 families in Nyamiyaga Sector. Access to electricity, much like food and water, is a necessity and it plays a vital role in the development of a community. Students will be able to read past evening hours and parents can carry out chores that require electricity. In essence, their days do not have to end when the sun goes down. Moreover, by using solar power, they are propelling the use of green energy, protecting their environment for future generations."
Thus far, a total of 16,494 homes have access to electricity via renewable means from the mobilization of funds by the public which includes individuals, Rwanda Diaspora, Friends of Rwanda, and various private and public institutions. BRD targets to light up 24,000 homes by July.
''We are extremely grateful to MTN Rwanda, for the generous support to the Cana Challenge Initiative which has enabled us to connect an additional 700 households in Gicumbi. So far, we have been able to connect a total of 16,494 households to electricity country wide and our objective is to increase this number as we continue to receive contributions from different partners. We are committed to supporting the Government of Rwanda to achieve Universal access to electricity,'' Said Denis Rugamba, the Manager Renewable Energy Fund under the Special Project Unit.
MTN Rwanda continues to champion green energy adoption through various initiatives in its MTN Project Zero, which has so far seen to the trading in of 15% of their fleet for hybrid electric vehicles and installation of solar panels that generate just under 5% of its main Data Center electricity needs. Both initiatives are set to expand in capacity to ensure the achievement of greater green efficiencies and low carbon emissions.
MTN Rwandacell Plc (MTN Rwanda) is the market leader in mobile telecommunications in Rwanda. Since 1998, we have continuously invested in expanding and modernising our network and are the country's No 1 network. MTN Rwanda offers various services to subscribers, including innovative propositions such as personalised voice and data offers with MTN Irekure. The company is also the front runner in mobile financial services in Rwanda with Mobile Money, MoMoPay and MoKash Loans and Savings.
Since 1967, the Development Bank of Rwanda (BRD) Plc. Has been the leading provider of long-term investment loans to projects in the priority sectors of the Rwandan economy including Digital Economy, Exports & Manufacturing, Education, Renewable Energy, Affordable Housing, and Special Projects. (End)