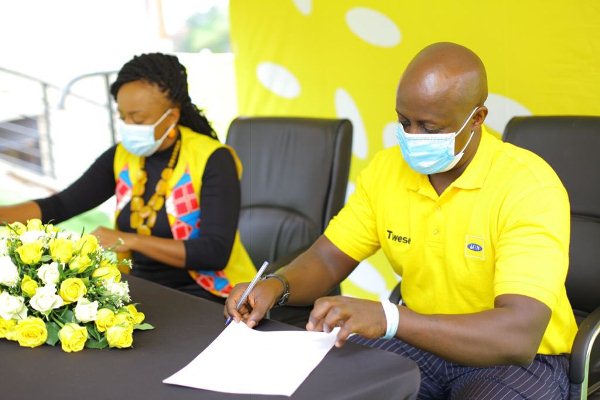 MTN Rwanda signs  a partnership with NUDOR
MTN Rwandacell has today announced a partnership with the National Union Disability Organizations in Rwanda (NUDOR). Through this, it is implementing different initiatives under the umbrella "Twese initiative".
This initiative consists of various interventions that will ensure all MTN services offered are more inclusive and accessible to all members of the society with specific emphasis on people with disabilities.
"Here at MTN, our customers are our priority, and we are constantly looking at how we can better serve all members of the diverse communities we operate in. Today, we are pleased to be partnering with the National Union of Disabilities' Organizations in Rwanda as we embark on a journey to ensure that the services we offer are even more inclusive and accessible to persons with disabilities. We are currently implementing interventions within our call center, shops, distribution footprint and marketing advertisements, which fall directly in line with our core belief that everyone deserves the benefits of a modern connected life," expressed Mitwa Ng'ambi, MTN Rwanda Chief Executive Officer.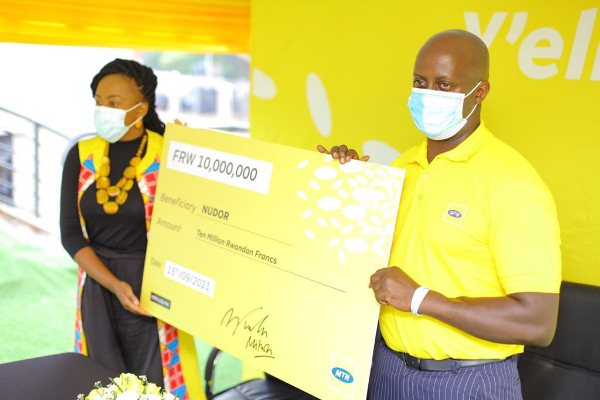 MTN Rwanda also donated ten (10) million Frw to help people with disabilities.
As part of the Twese Initiative, MTN Rwanda will progressively enhance its service centres to ensure they are physically accessible and inclusive for persons with disabilities. Additionally, MTN Rwanda will with immediate effect, include sign language communication in all its television advertisements as well as have interpreters in its Call Centre to aid persons with disabilities via video calls.
Noting that unemployment rates are reported to be higher among people with disabilities, MTN Rwanda has committed to reserve 60 MTN Agent positions across the country for people with disabilities (two agents per sector). These agents will be empowered through the provision of seed capital and MTN Kiosks to allow them to start up their businesses.
Alex Bahati, Member of East African Legislative Assembly Representing People with Disabilities highlighted that Twese initiative is a game changer and we appreciate the commitments made by MTN.
"The lives of people with disabilities are about to change for the better. This cross-cutting solution is the gateway to development and the end to many missed opportunities. MTN has led the way within the private sector, and we look forward to seeing other members of the sector picking a leaf from this," he said.
MTN Rwanda has also committed to reserve a minimum of 10% of seats on its annual Graduate Development Program, for graduates with disabilities. This opportunity will allow for skills development and prepare the graduates with the necessary work readiness tools.
Speaking at the launch of Twese initiative, Dominque Bizimana, the Chairperson of National Union of Disabilities' Organization thanked MTN Rwanda for taking an important step in becoming more inclusive.
"As the world continues to evolve, technology advances, our community does not want to be left behind. As of 2012 consensus, there are 446,453 persons with disabilities aged 5 and above are living in Rwanda out of which 221,150 are male and 225,303 are female. Therefore, by joining forces with MTN on this great initiative, our community will be provided an opportunity to use and enjoy the services and products offered to them. We would also like to appreciate MTN for their donation to our community," he noted.
At the signing ceremony, MTN Rwanda also donated ten (10) million Rwandan Francs to facilitate the organization to procure these types of essential materials for people with disabilities.
Furthermore, MTN announced that it will be sponsoring the International Week of the Deaf Conference, which runs from 19 September 2021 to 26 September 2021, and will run an awareness campaign for other important dates such as the International Day of Persons with Disabilities taking place in December.
"We recognize that there is still a huge role that we need to play to support the continued build of inclusive and sustainable societies. It is for this reason that we look forward to working with NUDOR through this partnership," concluded Ng'ambi.
The National Union of Disabilities' Organizations in Rwanda (NUDOR) is a civil society organization established in 2010 by eight national organizations of persons with disabilities. NUDOR exists to strengthen the voice of the disability movement in Rwanda. Together NUDOR and its 13 members are working so that persons with disabilities can enjoy the equal rights to which they are entitled.
MTN Rwandacell PLC (MTN Rwanda) is the market leader in mobile telecommunications in Rwanda. Since 1998, we have continuously invested in expanding and modernising our footprint and are the country's No 1 network.
MTN Rwanda offers various innovative services to consumers and enterprises, including personalised voice, data, home and fixed connectivity solutions. The company is also the front runner in Mobile Financial Services in Rwanda delivered through its FinTech subsidiary, Mobile Money Rwanda Ltd. (End)