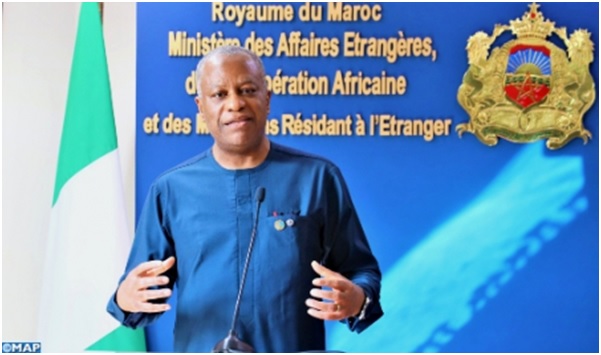 Rabat – Nigeria's Minister of  Foreign Affairs, Mr Geoffrey Onyeama, described on Tuesday  June 08, 2022, in Rabat, as "revolutionary" the economic cooperation between his country and Morocco.
"We are very satisfied with this relationship which has led to certain projects within the framework of the partnership between Nigeria and Morocco," said the Nigerian top diplomat during a joint press briefing with the Minister of Foreign Affairs, African Cooperation and Moroccans Abroad, Nasser Bourita, following their talks held on the sidelines of the 1st ministerial meeting of African Atlantic States.
The Nigerian official mentioned in this regard the construction of the fertilizer factory and the Nigeria-Morocco gas pipeline, noting that the relationship between the two countries "is working very well".
He also expressed the wish that HM King Mohammed VI would pay a visit to Nigeria to inaugurate some projects included in the framework of the bilateral partnership, while welcoming the very good relations between the Sovereign and President Muhammadu Buhari.
Mr. Onyeama also welcomed Morocco's excellent initiative to organize the first ministerial meeting of African Atlantic States, stressing that this initiative will benefit Atlantic Africa as well as the whole of the Continent.
He also congratulated the government of HM the King for the governance adopted which made it possible to achieve "very positive" results, adding that he was impressed by the fact that "things are improving" each time he pays a visit to Rabat.