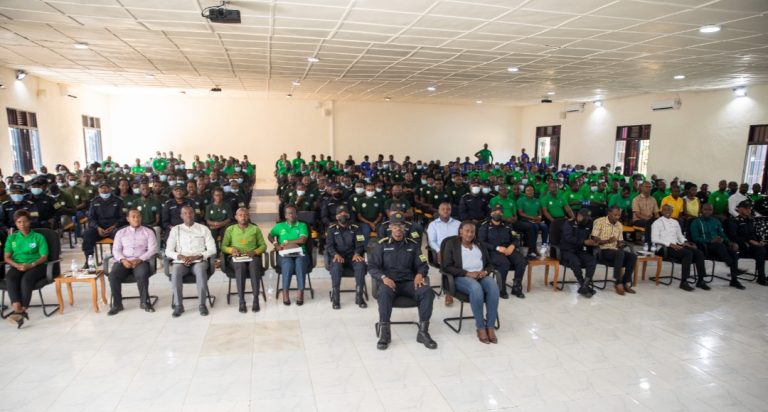 At least 306 members of Rwanda Youth Volunteers in Community Policing (RYVCP) from the Southern Province, on Friday, July 29, concluded a five-day training at the Police Training School (PTS) Gishari in Rwamagana District.
The Inspector General of Police (IGP) Dan Munyuza presided over the official closing of the training, which focused on the role of youth volunteers in contributing to the human security and development.
It looked on various aspects such as the role of the youth and other organs in mindset change, fighting and preventing crimes, the role of youth volunteers in community development and their contribution, the role of youth volunteers in addressing human security issues, and the role of youth volunteers in the national liberation struggle, among others.
IGP Munyuza urged the youth to double their efforts in fighting any acts, which may affect the safety and security of the people.
"We all know the role of security in public health, human security and development in the Southern Province and across the country in general. Do not undermine such efforts… Strive to reinforce them," IGP Munyuza said.
He added: "To contribute to national security and development requires commitment and dedication in fighting all crimes such as smuggling, drug trafficking, environmental degradation and corruption. That is why Rwanda National Police adopted the community policing approach to also engage among others, the young people to be able to fight crimes in the community, and this is one of the reasons you came here for capacity building in terms of safety management." IGP Munyuza added.
He urged them to be characterized by Rwandan values and to be responsive to community issues.
"You are among opinion leaders in your communities, don't be lazy, set an example by implementing the national development and security programmes, and try to manage well your time," he reiterated.
The Police Chief appealed to them to actively work with security organs and local authorities and to avail necessary information on any security threats.
The Governor of the Southern Province, Alice Kayitesi pointed out that the training has been the good opportunity for the youth volunteers to get advanced understanding on their role in crime prevention and promotion of human security.
"During the training, participants acquired various sessions offered by distinguished government officials and security organs personnel through which they learned their role in contributing to the national security and development," said Governor Kayitesi.
Governor Kayitesi thanked MINALOC and RNP as prominent stakeholders, who contributed to the accomplishment of the training.
RYVCP was created in 2013 by the youth to contribute to the national transformation. (End)