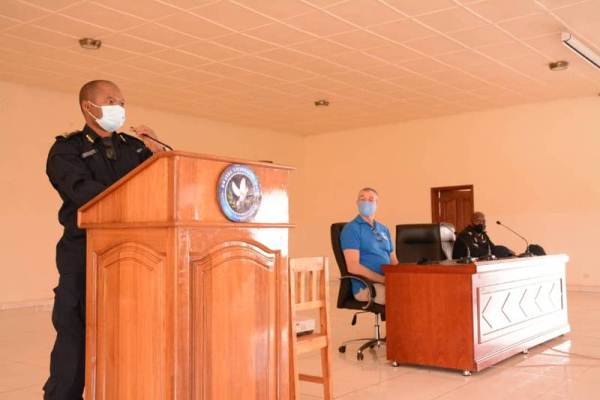 PTS commandant, CP Robert Niyonshuti speaks at the opening of the paramedic professional course
Twenty-four Rwanda National Police (RNP) officers, on Monday, January 25, started a three-week paramedic professional course at Police Training School (PTS) Gishari in Rwamagana District.
The medical Police officers are being prepared to support Rwanda Formed Police (FPU) and Protection Support PSU) units serving under the United Nations Multidimensional Integrated Stabilization Mission in the Central African Republic (MINUSCA).
The course is conducted by experts from the UN Institute for Training and Research (UNITAR).
It is conducted in consideration of the health guidelines to prevent the spread of the COVID-19 pandemic.
Commissioner of Police (CP) Robert Niyonshuti, PTS commandant, while officially opening the course, appreciated the excellent cooperation between UNITAR and RNP especially in capacity building in different fields of peacekeeping.
"Effective medical care to the forces serving in peace support operations is key to the accomplishment of the mission," CP Niyonshuti said.
He added that the paramedic professional course will help participants to meet required standards that are acceptable to all participating nations' medical services.
The commandant observed that the course will equip participants with knowledge, skills and attitudes that make them capable of providing the required medical support to peacekeeping units' personnel.
He urged the trainees to take the course seriously to gain maximum knowledge and skills required of them to provide the needed medical care and support peacekeeping operations.
During the three weeks, the medical officers will be trained on field medicine, tactical combat casualty care, prolonged field care, damage control resuscitation and psychological care, among others.
Rwanda maintains three contingents in Central African Republic (CAR); two Formed Police Units and one Protection Support Unit, each composed of 140 peacekeepers. (End)
Please follow and like us: