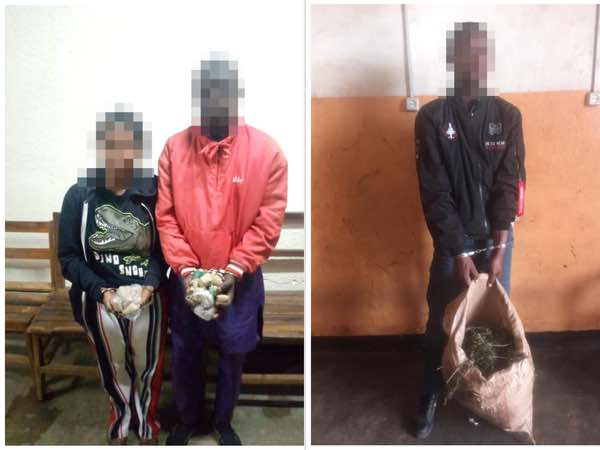 Three suspected drug dealers have been arrested in separate Police operations in Nyarugenge District, with combined 6kgs and 60 rolls of cannabis.
They include one Alex Benihirwe, 28, who was apprehended on Friday November 25, in Nyabugogo Village, Kimisagara Cell in Kimisagara Sector with 6kgs of cannabis.
Two others; Valentine Musabyemariya and Shaffy Habyarimana alias Pappy, both aged 28, were arrested Saturday in Biryogo Village, Biryogo Cell of Nyarugenge Sector with 60 pellets of cannabis.
The Police spokesperson for the City of Kigali, Chief Inspector of Police (CIP) Sylvestre Twajamahoro said that the trio was reported by residents.
"Benihirwe had trafficked the narcotics from Burera District to Kigali but Police got information on his arrival in Nyabugogo bus terminal, that the bag he had contained narcotics. As the Police approached him, he dropped the bag containing the 6kgs of cannabis and attempted to flee, but he was pursued and caught by the people, who handed him over to the Police," CIP Twajamahoro said.
Law enforcement organs, he added, are still searching for another man only identified as David, of Kimisagara, whom Benihirwe alleged he is his client and to whom he was delivering the narcotics at the time.
Meanwhile, in the case involving Musabyemariya and Habyarimana, Police first arrested the former with 30 pellets of cannabis.
"Other 10 pellets were recovered from Musabyemariya's house. She then disclosed to the police that he was supplied by Habyarimana, who was arrested later at about 6p.m as he brought other 20 rolls of cannabis to Musabyemariya," CIP Twajamahoro said.
The suspects were handed over to RIB for further investigations.
Article 263 of law No. 68/2018 of 30/08/2018 determining offenses and penalties in general states that any person, who unlawfully produces, transforms, transports, stores, gives to another or who sells narcotic drugs and psychotropic substances, commits an offence.
Upon conviction for very severe narcotics, the offender faces between 20 years and life imprisonment, and a fine of between Frw20 million and Frw30 million. (End)