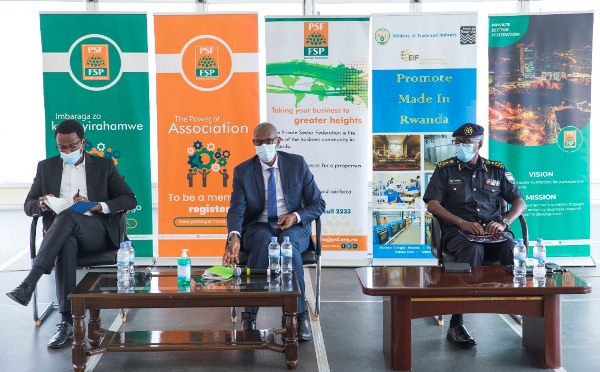 Rwanda National Police (RNP) has assured the general public of their safety and security during the upcoming International Trade Fair—Expo 2020.
The 23rd Rwanda Trade Fair will be held at Gikondo Expo ground between December 11-31.
While speaking at the press conference that brought together different Expo organizers and players, RNP spokesperson, Commissioner of Police (CP) John Bosco Kabera said that the force is working closely with the organizers and other relevant institutions to ensure security and safety for the exhibitors, their goods and visitors.
"As usual, we shall spare no effort; Police officers will be deployed at the exhibition venue for the safety of people, and to ensure smooth traffic-flow, which tend to increase in this period. Police fire engines and other emergency services will also be stationed at the exhibition ground to respond to any emergency," said CP Kabera.
RNP, he said, has deployed a temporary police station to coordinate and collaborate with the Private Sector Federation (PSF) and other partners in matters related to safety and security.
"This year's Rwanda International Trade Fair takes place in times of the COVID-19, which is affecting Rwanda and the rest of the world. Rwanda National Police cautions everyone, including exhibitors and visitors to abide by all existing guidelines issued to prevent the spread of pandemic.
Wear a face mask, respect physical distancing, wash or sanitize your hands, avoid any body contact and respect any safety guidelines required within the vicinity of the Expo," CP Kabera emphasized.
He further reminded parents not to bring children below 12 years of age.
He also urged all road users to respect traffic rules and regulations to prevent accidents and to make Rwanya Covid-Gerayo Amahoro campaign an individual and collective responsibility.
"Rwanda National Police is ready and available, and assures Rwandans that this trade fair will be conducted in a safe and secure environment," the spokesperson said.
Stephen Ruzibiza, PSF Chief Executive Officer (CEO) said that services for children aged below 12, will not feature in this year's edition due to the pandemic, and urged parents to leave their children at home.
He further encouraged exhibitors and customers to use cashless payment services to prevent the spread of the COVID-19.
About 400 exhibitors are expected to participate in this year's trade fair.
Out of the 373 exhibitors that have so far confirmed their participation, majority 301 are from Rwanda, according to Ruzibiza, while 72 are from 12 other countries.
The Expo, he said, will be open between 8am and 8pm. (End)
Please follow and like us: