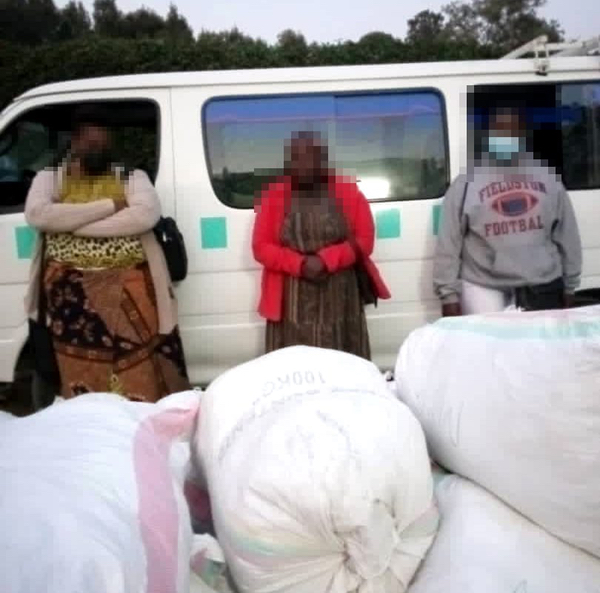 The Rwanda National Police (RNP) Revenue Protection Unit (RPU) on Wednesday, July 27, impounded a vehicle in Muhanga District, Kanyinya cell in Mataba village loaded with 42 sacks of second-hand clothes commonly known as caguwa, weighing 988kgs.
Four people, who were aboard the Toyota Hiace, registration number RAB 802Y, including the driver identified as Ernest Ntihabose, 37, were arrested.
Others are Valerie Uwimana, 48, Olive Uwera, 32, and Solange Uzamukunda, 47.
The clothes were smuggled into Rwanda from Democratic Republic of Congo (DRC), according to Superintendent of Police (SP) Theobald Kanamugire, the Police spokesperson for the Southern region.
The RPU, he added, was tipped-off by some members of the public about the smuggling and fraud.
"RPU had prior information that the vehicle loaded with sacks of second-hand clothes had left Karongi town in Karongi District heading to Muhanga," SP Kanamugire said.
He added: "A checkpoint was mounted in Nganzo, but the driver used a remote road and parked the vehicle in a banana plantation as he waited for the checkpoint to be removed.
Due to the existing strong collaboration with the public, Police got to know where the vehicle was parked. All the four suspected smugglers were arrested at the scene where the vehicle loaded with 42 sacks of used clothes, was found."
The suspected smugglers said they were going to supply their clients in Muhanga and in Kigali.
SP Kanamugire thanked residents, who provided information, which helped to foil the smuggling ring.
The suspected smugglers were handed over to RIB at Muhanga station while the goods and vehicle were impounded to RPU offices in Muhanga.
Article 199 of the East African Community Management Act, which is also used in Rwanda, specifies a penalty of US$5000 to a driver while the vehicle and goods are auctioned. (End)