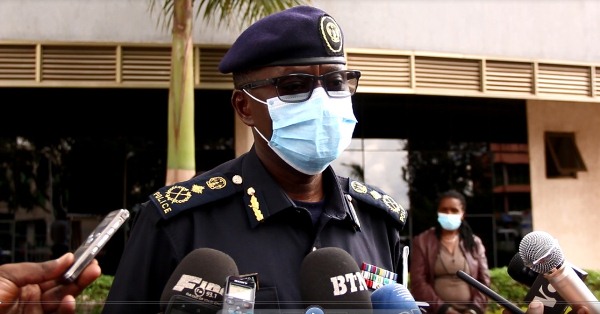 RNP spokesperson, CP John Bosco Kabera.
Rwanda National Police (RNP) and MTN-Rwanda have joined efforts to raise awareness and educate the general public on COVID-19 prevention measures and safer road usage under the campaign dubbed "Rwanya COVID-Gerayo Amahoro."
The month-long partnership was disclosed this Monday, November 30, during a live talkshow—Waramutse Rwanda (Good Morning Rwanda)—on Rwanda Television.
RNP spokesperson, CP John Bosco Kabera said that although the Government continues to open different services, the pandemic of the COVID-19 is still around.
A cabinet meeting held on Friday, November 27, among others, gave a green light to gyms, swimming pools, live performances and cultural shows.
"These services, like many others that were reopened before, are allowed to resume under strict safety conditions, which must be fulfilled and maximally adhered to," CP Kabera said.
According to cabinet minutes, gyms, swimming pools as well as live performances and cultural shows will only resume upon fulfillment of the set COVID-19 preventive safety guidelines issued by the relevant institutions.
"We continue to urge residents of Rwanda to be responsive both in following the directives and recommended health practices, and reporting any violations in their localities such as people who turn their homes into bars, hospitality facilities that operate contrary to the directives like their bar sections and clubs," CP Kabera said.
RWANYA COVID-GERAYO AMAHORO
"Normally, December is coupled with many social and merrymaking events. It is also a month of mass movements. This partnership seeks to engage as many people as possible to educate them on the pandemic and preventive measures as well as how to use the road safely. It seeks to change any behaviors that can lead to further spread of COVID-19 or can cause accidents. We will mainly use the media—print and electronic—social media to reach mass audience," said CP Kabera.
Under the partnership, which also involves City of Kigali, faded crosswalks will also be repainted for visibility.
Safety during expo
CP Kabera also reassured safety of people during the upcoming International Trade Fair—Expo 2020—scheduled for December 11-30, including increased road security, response to emergencies like fire at the Expo ground.
He spared a message for the public going to the Expo to follow all the guidelines issued by the Ministry of Health and the Private Sector Federation (PSF) to prevent contracting or spreading COVID-19.
Alain Numa, the Head of Corporate Affairs at MTN said that partnership will see MTN subscribers receive messages on their Mobiles related to CIVID-19 and road safety.
"Safety messages will reach all our six million subscribers reminding them to be safe from the pandemic and road accidents," said Numa. (End)