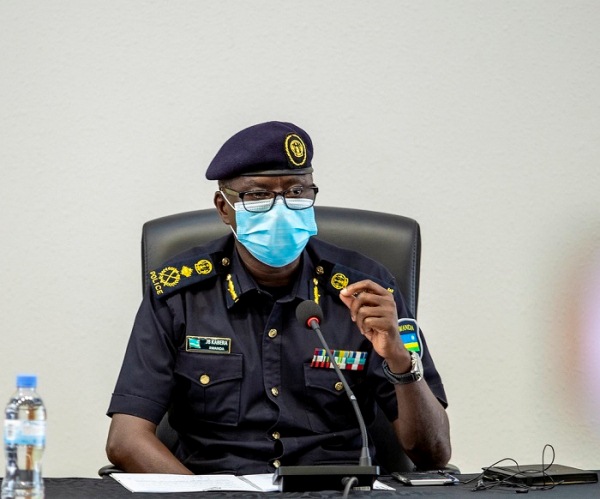 Rwanda National Police (RNP) has sounded a fresh call to the general public to refrain from behaviors and practices that continue to fuel further spread of the Covid-19 pandemic.
RNP spokesperson, Commissioner of Police (CP) John Bosco Kabera said that some people continue to disregard the government prevention directives and health guidelines to engage in prohibited or banned activities, where in some cases those infected end up infecting others.
"On Christmas Day alone, Police recorded 4,600 people across the country, who violated the directives. They include those who were holding illegal gatherings, overcrowded in taxi-parks, not wearing face masks, violating the curfew, operating bars without authorisation, and hosting house parties," CP Kabera said.
"Comply with the directives without any exception. There are those, who were arrested visiting people, who tested positive for Covid-19 and under home care and those who hold parties. Sadly, these people ended up contracting the virus and spreading it to others, which we view as intentional spread of the virus, and which amounts to a criminal act," he added.
He singled out two recent cases in Nyarugunga Sector, Kicukiro District where in incidents people were visiting Covid-19 positives friends.
"Sixteen people were recently arrested gathering in a house of a Covid-19 patient in Nyarugunga sector, Kicukiro District, and tests for three of them later turned positive. It was the same in the night of Christmas also in Nyarugunga where another group was caught visiting a positive person and were found drinking together. The law criminalizes such acts done intentionally and they will face the legal process."
CP Kabera, however, pointed out that the general security situation remains calm in this festive period with no serious incidents and called for continued cooperation and information sharing on anything that can affect the security and wellbeing of the people in their communities or businesses. (End)