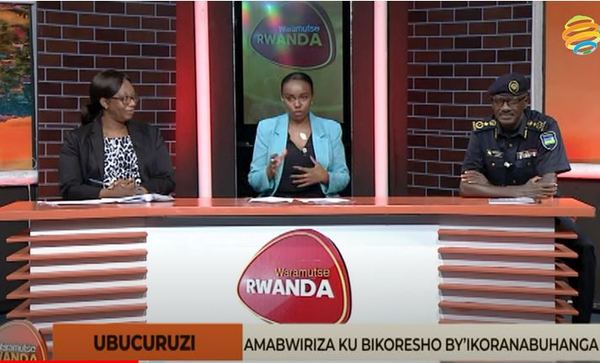 Rwanda National Police (RNP) and Rwanda Inspectorate, Competition and Consumer Protection Authority (RICA) have continued the joint public awareness on the Regulations Nº DGO/REG/005 of 07/07/2022 governing trade of used electrical and electronic equipment.
On Wednesday, August 3, RNP spokesperson, Commissioner of Police (CP) John Bosco Kabera and RICA Director General, Beatrice Uwumukiza appeared on Waramutse Rwanda (Good Morning Rwanda) live talkshow on Rwanda Television to further elaborate the regulations to the public.
"The regulations are key to information gathering and evidence collection to detect and identify criminals," said CP Kabera.
The regulations specify that before buying second-hand electronics, the business operator must first verify that the seller is the rightful owner of the equipment and record detailed particulars.
Traders will be required to keep records for at least two years, indicate the category, brand and model name, model number, serial number, information relating to International Mobile Equipment Identity (IMEI) and International Mobile Equipment Identity Software Version (IMEI-SV) per slot where applicable; any other distinguished marks or features, where applicable and equipment status description.
"We urge dealers in used electrical and electronic equipment to know how to record and use data. There are people, who vandalize public infrastructure like electricity and water; these include buyers who encourage such criminal practices when they buy them. Members of the public report such criminal tendencies but these regulations is a big step to stop these crimes," CP Kabera said.
He added that now thieves will be reporting themselves when they take stolen electrical or electronic item to a registered trader, who equally has the responsibility to ask and record particulars of the person where they got the product he or she is selling.
RICA Director General, Beatrice Uwumukiza said that regulations governing second-hand electrical and electronic equipment were established to address issues existing in trade and sell of used equipment.
"Previously, anyone would wake up in the morning and start a shop in a trading center to sell used electrical and electronic equipment, and the trader could hardly explain the source or origin of these products.
Now, for you to engage in this business, you have to apply for a license and you will be required to record details of the product you are buying or selling as well as detailed information on the person selling you the product or buying the product from your shop," said Uwumukiza.
She advised those already in this business to apply for the license and to comply with the regulations.
Those already in business have up to October to have acquired the operating license.
So far, more than 200 dealers in used electrical and electronic equipment in Kigali have already applied for the license.