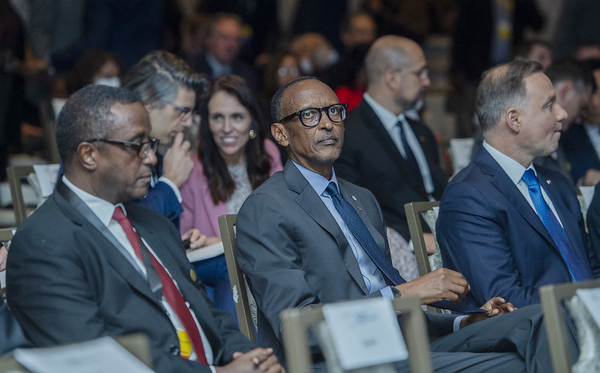 President Kagame is in New York, USA where he will attend the 77th Session of the United Nations General Assembly. Themed "A watershed moment: transformative solutions to interlocking challenges," this year's UN General Assembly focuses on global challenges including the energy crisis, climate action, ending the COVID-19 pandemic, and education.
Yesterday afternoon, President Kagame joined leaders from across the world for the Global Food Security Summit convened by President Charles Michel of the European Council, Senegalese President Macky Sall who is also the Chair of the African Union, Prime Minister Pedro Sánchez of Spain, and US Secretary of State Antony Blinken.
Today, Wednesday, 21 September 2022, The President will address the UN General Assembly – General Debate, sharing Rwanda's stand on current global issues. Thereafter, he will take part in the Global Fund Pledging Session. The Global Fund invests US$4 billion a year to defeat HIV, TB and malaria and ensure a healthier, safer, equitable future for all. Over 50 million lives have been saved through the Fund's partnership with countries including Rwanda.
On Thursday, 22 September 2022, President Kagame will deliver remarks at the Nigeria International Economic Partnership Forum (NIEPF). The Forum aims to highlight Nigeria and Africa's investment opportunities to the global community.
On the sidelines of this year's UN General Assembly, the President will also hold bilateral meetings with different leaders from across the globe. (End)