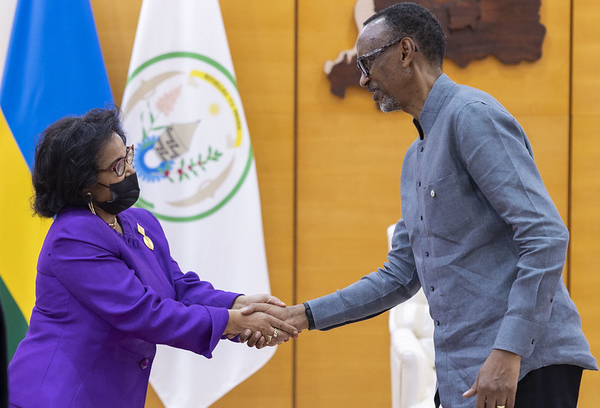 This afternoon at Urugwiro Village, President Kagame who is Chairperson of the NEPAD Heads of State and Government Orientation Committee (HSGOC) met with Nardos Bekele-Thomas, CEO of Africa Union Development Agency-New Partnership for Africa's Development (AUDA-NEPAD),  for discussions on regional efforts towards economic integration.
"I am most pleased to have met H.E Paul Kagame, President of the Republic of Rwanda, Chairperson of the HSGOC and Champion of Smart Africa. His insights and vision for Africa is inspirational and AUDA-NEPAD is blessed to have his kind of brilliant political leadership", said Nardos Bekele-Thomas after meeting the Rwandan President.
The AUDA-NEPAD was established in 2010 to integrate the then New Partnership for Africa's Development (NEPAD) into African Union (AU) structures and processes. In 2019, NEPAD became the African Union Development Agency (AUDA).
The establishment of AUDA-NEPAD is part of the global reforms geared at improving the African Union's impact and operational efficiency.
The mandate of AUDA-NEPAD is to: a) Coordinate and Execute priority regional and continental projects to promote regional integration towards the accelerated realisation of Agenda 2063; and b) Strengthen capacity of African Union Member States and regional bodies, advance knowledge-based advisory support, undertake the full range of resource mobilisation and serve as the continent's technical interface with all Africa's development stakeholders and development partners. (End)