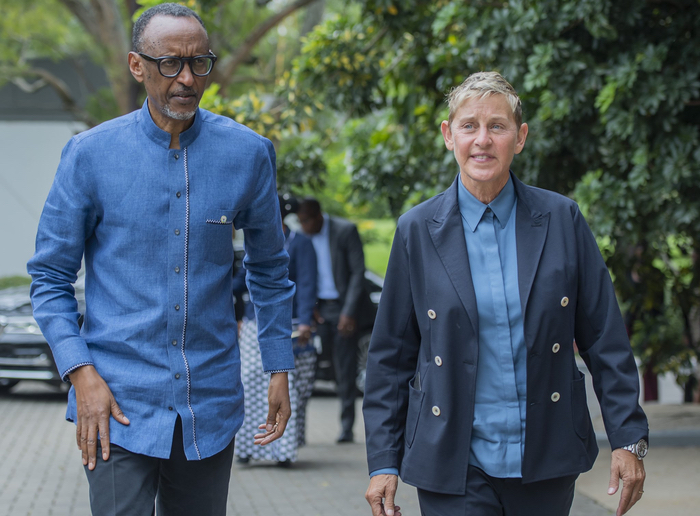 Today at Urugwiro Village, President Kagame received Ellen DeGeneres, Portia de Rossi and delegation after yesterday's launch of Ellen DeGeneres Campus of the Dian Fossey Gorilla Fund in Kinigi, a center for conservation research in the region. 
The visitors inaugurated Ellen DeGeneres Campus expected to boost mountain gorilla conservation efforts and promote Rwanda's tourism in Virunga National Park in Kinigi Sector, Musanze District of Northern Province.
The campus was built by an American television personality and comedian, Ellen DeGeneres renowned for his talk show dubbed 'The Ellen DeGeneres Show'.
DeGeneres was gifted with the campus by her long-time partner Portia de Rossi considering her love for Diana Fossey, a celebrated gorilla conservationist who died in 1985.
Construction of the multimillion-dollar facility was completed at a cost of US$15 million (over Rwf14 billion). It was initially opened to public on 1st February 2022 to foster research and education on gorillas while more than 2400 Rwandans got jobs during construction of the Ellen DeGeneres Campus.
The opened campus will be home to the Dian Fossey Gorilla Fund which has been operating in Rwanda for more than 50 years through its Karisoke Research Centre, based in Musanze District, Northern Province.
The Dian Fossey Fund is the world's longest-running and largest organisation dedicated entirely to the conservation of gorillas. (End)