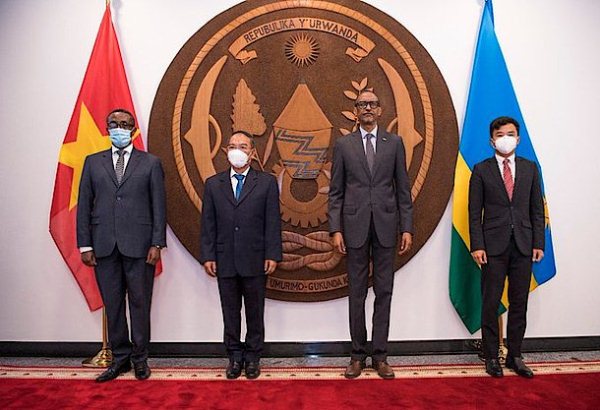 President Kagame has on Tuesday received at Urugwiro Village, letters of credence from Mr. Jin Weon-Chae, Korea's Ambassador to Rwanda, Mr. Saleh Bin Suleiman Bin Ahmed Al-Harthi, Oman's ambassador to Rwanda, and Mr. Nguyen Nam Tien, Vietnam's Ambassador to Rwanda.
Rwanda – Korea
The cooperation between Rwanda and Korea focuses in the areas of education and capacity building, rural development, agriculture, as well as information and communications technology.
Development cooperation with Korea is implemented through the Korean International Cooperation Agency (KOICA) which has an office in Kigali. KOICA's main projects in Rwanda in the next four years are in the sectors of Agriculture, TVET as well as in tax policy and administration.
Rwanda – Oman
Rwanda and the Sultanate of Oman enjoy good bilateral relations. Both countries established diplomatic relations in March 1998. The two countries have a long-established trade relationship with the Omani merchants who initiated the first commercial centres in Rwanda since the early 1900s.
In terms of trade between the two countries, it is estimated to be valued at USD 920,000 to USD 2.3 million in 2017 and 2018 respectively. Petroleum products represent 82% of imports from Oman to Rwanda. The main products exported from Rwanda to Oman in 2018 included vegetables, processed food and cereals.
Rwanda – Vietnam
Rwanda and Vietnam established diplomatic relations in 1975. In 2000, a general cooperation agreement was signed and in May 2008, His Excellency the President of Rwanda paid a state visit to Vietnam upon invitation by his counterpart. During the visit, three cooperation agreements, were signed in the areas of agriculture, health, and education. (End)
Please follow and like us: