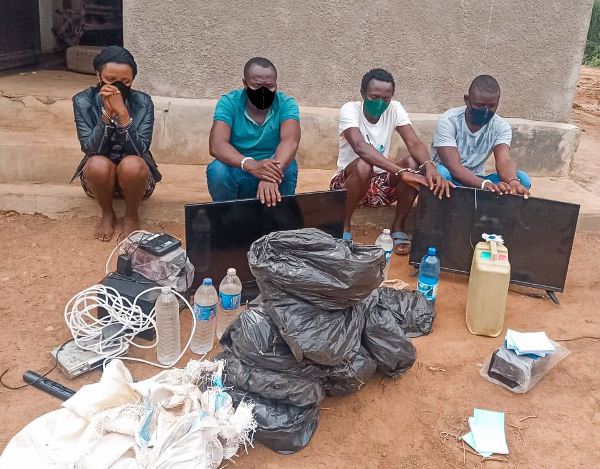 Four members of the same racket suspected of trafficking and selling narcotics, and engaging in burglaries, have been arrested in Nyagatare District.
Rachid Gatanazi, 42, Jacques Niyonzima, 45, Vincent Sibomana, 27, and Farida Muhongerwa, 21, were arrested in a targeted operation conducted by Rwanda National Police (RNP) in Ryabega Village, Rutaraka Cell of Nyagatare Sector with two stolen flat television screens, 8kgs of cannabis and 15 litres of kanyanga, a banned illicit gin.
It is alleged that the ring sneaks the substances into Rwanda from Uganda, through porous border points.
According to Chief Inspector of Police (CIP) Hamduni Twizeyimana, the Police spokesperson for the Eastern region, the suspects were arrested red-handed in possession of the narcotic drugs and psychotropic substances, and the TV sets following credible information from residents.
"Police had information from residents that the group was involved in criminal activities, including burglary and trafficking of narcotics. We later got credible information that they had brought bundles of narcotics and quantities of kanyanga, which they took to the homes of Richard Gatanazi and his neighbor Vincent Sibomana," CIP Twizeyimana said.
"During the swift operation, Police found the suspects gathered in the house of Gatanazi abusing cannabis with an anvelope containing other quantities of cannabis. Police searched the house and recovered a sack containing other 8kgs of cannabis, 15 litres of kanyanga and two flat television screens," said CIP Twizeyimana.
He added that they are still searching for the owners of the recovered television sets.
CIP Twizeyimana further lauded the impact of community policing and public ownership to identify and report suspected criminals, which enables the police to break chains of wringdoers.
All the suspects have since been handed over to RIB at Nyagatare station for further investigations and legal process.(End)