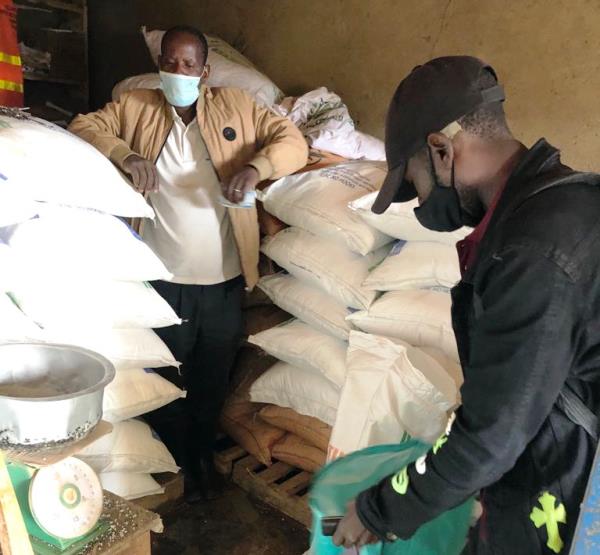 By Yves Iyaremye;
Businesses that were on the verge of collapse in Rutsiro District, Western Province are thankful to the Rwandan government for setting up a lower rate of 8% repayment loans to help them recover from the losses caused by COVID-19 restrictions.
The loans given to people who had small businesses affected by COVID-19 Pandemic received at least one million payable in two years at a lower rate compared to 21%.
The funding was set up by the Rwandan government through Business Development Fund (BDF) and accessed through Umurenge Saccos in each sector required projects worth less than a million.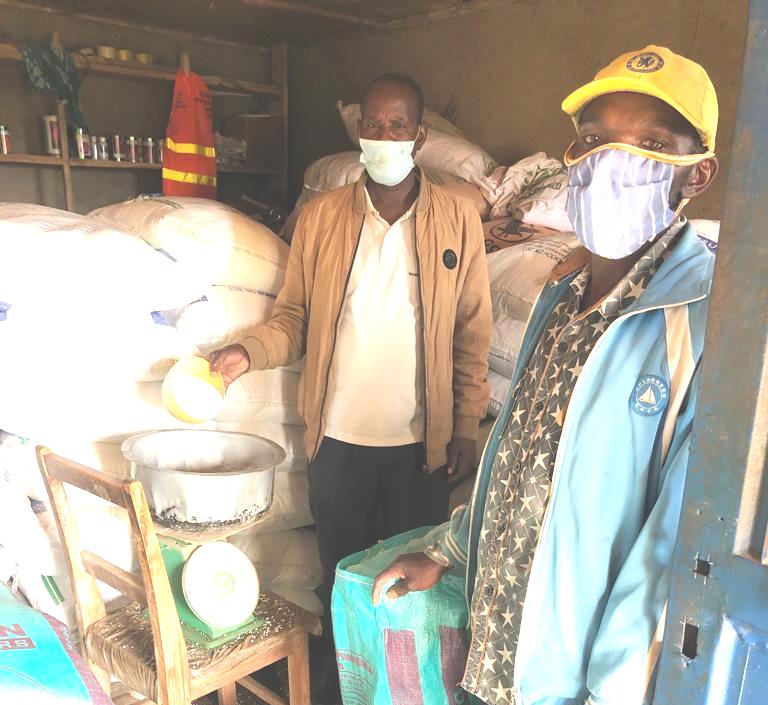 Twambajimana (L) sells fertilizers at his shop in Rutsiro
Aloys Twambajimana, a fertilizer supplier, says he has been given one million to help him recover from the losses caused by restrictions aimed at preventing the spread of COVID-19.
"In the past, various measures have been taken to keep people at home, and it was difficult for us to work and make ends meet. The lockdowns cost us dearly because there was no business," observed Twambajimana.
"Right now we have got a loan that was injected in the business which allows us to have more stock and farmers have raised productivity which will have a positive impact on our business," he continues.
Twambajimana commended the Rwandan government for the initiative and wished this would continue, he praised efforts to combat the pandemic by government which gives confidence that there will be no more lockdowns.
Daniel Mihigo, the manager of the Sacco Cooperative, said the money they had given to small businesses for recovery was provided by the Government of Rwanda through BDF and its helping those business stay afloat.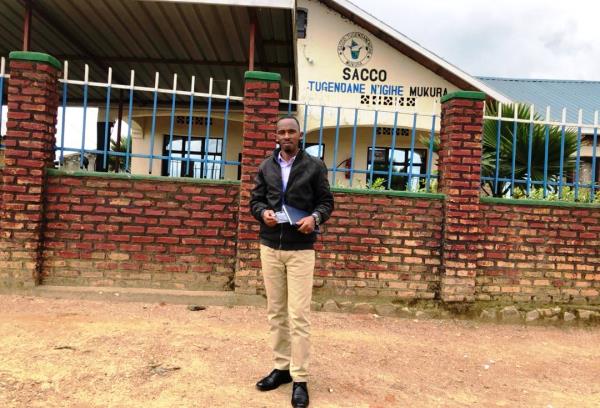 Daniel Mihigo, the manager of the Sacco Cooperative in Mukura
He says the fund is unique because it provides loans that are repayable at an interest rate of 8% while residents or traders were accustomed to borrowing at an interest rate of 21%.
"Small Businesses have been given one million payable in a year or two, those who got the loans in Rutsiro mostly come from the trading centers of Rambura, Ryabisine and others centers but we are still receiving loan applications," he said.
Sylvestre Bisangabagabo, the Executive Secretary of Mukura Sector in Rutsiro District revealed that his sector received six loans out of 38 applicants since April this year.
Some of the criteria for getting the loan include being a trader, having paid patent tax by March 2020 and applicants are visited at their places of to prove they are operating.
He explained that there were 22 other people who applied but their applications are pending, while the rest were not eligible. Among those that got the loans were restaurants, shops and other small businesses mostly affected by COVID-19.
Bisangabagabo urges the beneficiaries to use the loans wisely and repay accordingly so that it benefit others as well as bring development and improve their living conditions.
Issa Bembereza, the investment officer at Rutsiro District praised the program because it has reached many in the region and continues to help them recover from the losses caused by COVID-19.