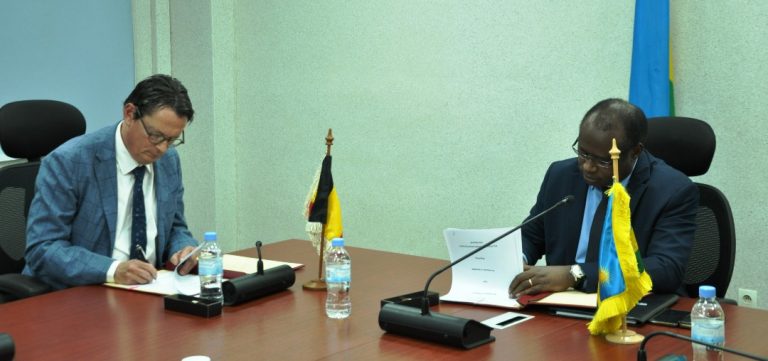 Today Dr. Uzziel Ndagijimana, Minister of Finance and Economic Planning of the Republic of Rwanda and H.E. Bert Versmessen, Ambassador of the Kingdom of Belgium to the Republic of Rwanda, signed a 17,6 million euro (Frw 18,8 billion) bilateral agreement to create decent job opportunities and increase social protection in Rwanda. The Rwandan component is part of a regional programme with the Democratic Republic of Congo and Uganda for a total amount of 50 million euro.
The intervention in Rwanda aims to enable young people and women of working age to engage in decent work, to be better protected by labour rights and to benefit from social protection and a more inclusive social dialogue. Together these objectives constitute the "4 pillars of decent work" as defined by the International Labour Organization (ILO).
Enabel, the Belgian development agency, will be in charge of executing the programme, in close cooperation with Rwandan authorities, the private sector, CSOs and players at local, national and regional level.
The programme targets 4 sectors: manufacturing, construction, mining and trade. The intervention zone consists of the City of Kigali and the five districts that make up the Kivu Belt: Rubavu, Karongi, Rutsiro,Rusizi and Nyamasheke.
Concretely, the first pillar of the intervention aspires to create more decent job opportunities by supporting both growth of existing Small and Micro Entreprises (SME)'s and the creation of new SME's. The creation of decent jobs will be complemented by increasing the work readiness and employability of both existing and future workers.
Secondly, the intervention aspires to support ongoing efforts to assure overall compliance to the rights embedded in the national labour law and international labour standards as well as international labour conventions ratified by Rwanda.
The third pillar, increased access to social protection mechanisms, will be operationalized by the roll out of a network of para-social workers who will link vulnerable households to the existing social protection mechanisms. And finally the programme will enhance social dialogue with the ambition to develop collective bargaining agreements in the mining, construction and manufacturing sectors.
The activities from these four areas will provide the input to a fifth axis, which is policy development and a national dialogue on decent work. It is worth pointing out that Rwanda will function as the hub for the regional initiatives, such as the sharing of best practices and peer-to-peer learning.
The long-term ambition of the programme is to improve the living conditions and resilience of the most vulnerable populations in the Great Lakes Region by bringing about a positive change and access to decent work for more people, beyond the scope of the portfolio.
On signing the agreement, the Minister Ndagijimana said: "Social protection remains one of the main priorities of the Government of Rwanda. We have built an integrated social protection system to ensure vulnerable groups have access to decent employment, improved living standards, are resilient to shocks and have opportunity through increased human capital development and equitable growth. This support from the Government of Belgium will enhance the existing social protection programs to ensure that no one is left behind."
Ambassador Versmessen underlined that "Social rights are human rights. All activities in the portfolio will be cross-checked to contribute directly or indirectly to the realization of human rights and SDG particularly No 1.3 and 8.5, Vulnerable groups take a central position, so that no one is left behind, and special attention will be paid to specific problems faced by youth and women". (End)