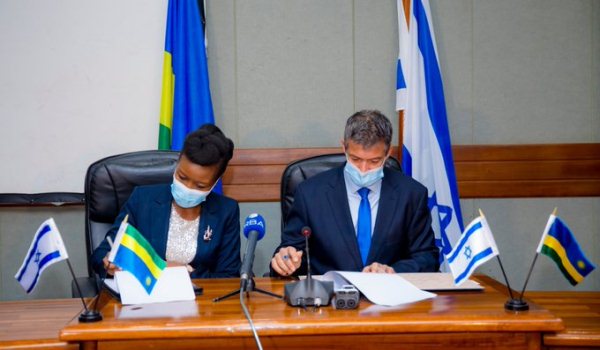 Rwanda and Israel have signed today a Memorandum of Understanding (MoU) to start to work together on Telecommunications and Information Technologies.
The Ministry of ICT and Innovation and its affiliated agencies received this Friday a delegation from the Ministry of Communications of Israel led by Hendel Yoaz.
Both the Ministers signed a Memorandum of Understanding on the Cooperation in the fields of Telecommunications and Information Technologies.
"Both our nations not only share the same values but also the desire for technologies and understanding that technology can improve lives. I believe Rwanda has the potential to become the Start Up Nation of Africa and a Start Up Nation for the Globe. This MoU is a path for both sides to learn from each other and collaborate." Minister Hendel Yoaz.
"Today's signing is just to cement further the long-standing relationship between our two Nations. We are very excited and look forward to being able to share success stories that will be anchored by this MoU" Minister Paula Ingabire commenting on the MoU signing.
With this Memorandum of Understanding, Rwanda and Israel will explore the possibility of collaboration in telecommunication, cyber security, space technology and artificial intelligence. (End).
Please follow and like us: