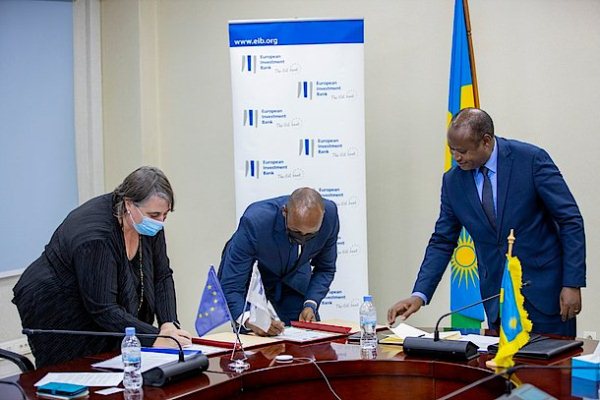 Rwanda Biomedical Centre has received a EUR 27 million backing upgrade the National Health Laboratory by strengthening epidemic and pandemic preparedness by improving diagnosis surveillance and research. The support is part of Government efforts to invest in the COVID-19 National Response Plan priority.
"Unlocking new investment by the Rwanda Biomedical Centre will transform diagnosis, surveillance and research at the National Health Laboratory. The support provided by the European Investment Bank's streamlined African COVID-19 health resilience engagement and the European Union will better protect Rwandans from disease and future epidemics." said Dr Daniel Ngamije Minister for Health.
"Accelerating public health investment is essential to tackle COVID-19 and better prepare for future health emergencies. The European Investment Bank is a key financing partner for Rwanda and the funds signed today signal the first ever direct EIB backing for health investment in our country." said Dr Uzziel Ndagijimana, Minister of Finance and Economic Planning.
"Since the start of the COVID-19 pandemic the European Investment Bank has worked with partners across Africa to unlock priority public health, vaccine and medical investment. The EIB is pleased to provide EUR 22 million to support redevelopment of the National Health Laboratory by the Rwanda Biomedical Centre, alongside EUR 5 million from Team Europe and World Health Organisation partners. Upgrading medical diagnosis will enable Rwandans to benefit from high quality health care and ensure a quicker response to future pandemics" said Thomas Östros, European Investment Bank Vice President.
The Rwanda Biomedical Centre conducts scientific research, provides diagnostics services, and implements innovative health interventions to protect the nation against diseases and other health threats. RBC was established in 2011 to improve the health of the Rwandan population by providing high quality, affordable and sustainable health care services. (End)