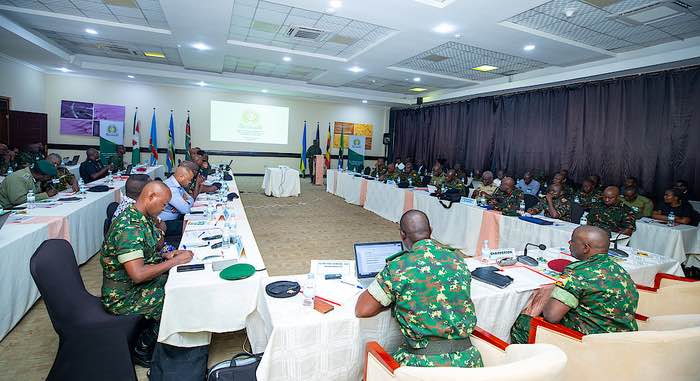 Nyamata: Today, EAC member states Armed Forces, police personnel, Prisons, Immigration and civilians' delegates begun a three-day Initial Planning Conference (IPC) for the East African Community Armed Forces Field Training Exercise (FTX) USHIRIKIANO IMARA 2024.
The conference is being held in Nyamata, Bugesera District, and attended by 65 delegates from EAC member states.
In his remarks, Brig Gen J Baptist Ngiruwonsanga, the Head of the Rwandan delegation, welcomed delegates from EAC partner states to the conference. He reiterated Rwanda's readiness and commitment to host the 13th EAC Armed Forces FTX Ushirikiano Imara 2024.
Col William Rusodoka, the representative of the EAC Secretary General said that the Initial Planning Conference is the second stage of planning process of EAC Exercise meant mainly to practice EAC Standard Operating Procedures (SOPs) at operational and tactical levels in order to enhance the state of readiness and interoperability of EAC Partner States' Armed Forces, Police, Civilian Components and other stakeholders in responding to complex security challenges.
The IPC is expected to consider exercise write-up, timelines, proposed budget on logistic support, Civil- Military Cooperation projects to be carried out during the conduct of the FTX. The Conference will also discuss administrative and logistics plan and conduct guided survey of the Exercise sites.
The meeting is being held in accordance with Article 2 of the EAC Protocol on Cooperation in Defence Affairs and pursuant to the Defence Sector Calendar of activities. (End)