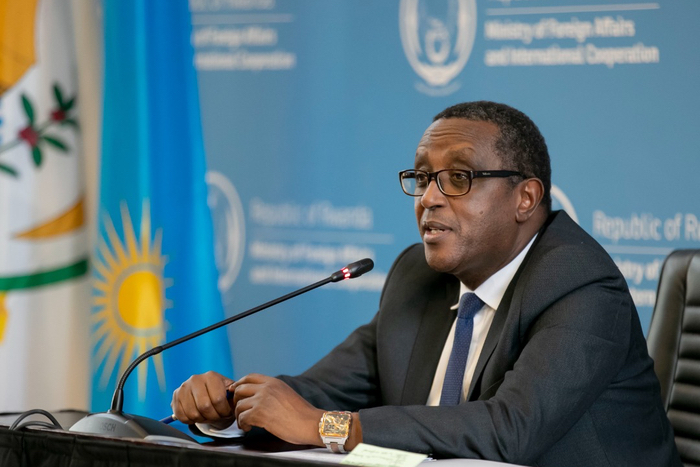 Rwanda's Foreign Minister Dr. Vincent Biruta has said that Rwanda is not interested in a crisis in reference to the current fighting in the neighbouring Democratic Republic of Congo (DRC) between government forces and the rebel group M23.
"We are committed to peace, stability & economic development of our region and wish to continue working with the DRC bilaterally, and through the established regional initiatives." Minister Dr. Biruta told reporters this Tuesday.
He also said the rebel group M23 was DRC's internal problem and should be resolved among Congolese themselves.
DRC summoned Rwanda's ambassador and suspended RwandAir flights to the country over the weekend in response to what it said was Kigali's support for M23 rebels carrying out a military offensive in its eastern parts of the country that borders Rwanda.
The Rwandan government has denied claims of any involvement in the aiding of the rebel group in DRC. Rwanda had earlier accused DRC for shelling on its territory which also injured residents near the border region and that two of its soldiers were kidnapped while patrolling the border area.
Briefing the Media, Rwanda's foreign minister said that the country will retaliate if it suffers further attacks from neighbouring DRC.
"If attacks continue we will not sit idly by… Rwanda will have the right to respond to protect the security of the country, to protect the security of its citizens and we have the means to do that," Biruta said.