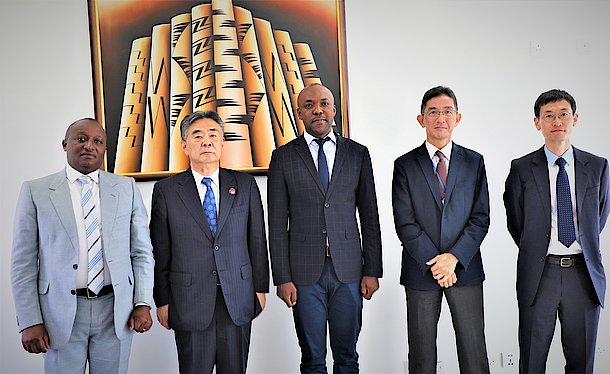 Minister Dr. Ernest NSABIMANA between IMAI Masahiro the Ambassador of Japan at (right) with JICA representatives and ABIMANA Fidele the Permanent Secretary
The Minister of Infrastructure, Dr. Ernest NSABIMANA, held a meeting with Masahiro IMAI, the ambassador of Japan, together with JICA team to review the status of the cooperation projects in the infrastructure sector.
This was during the meeting that was convened at the Ministry headquarters in the city of Kigali. The discussions focused on reviewing the status of cooperation in transport, energy and water sanitation.
Minister Ernest commends an outstanding support provided by the government of Japan through JICA aimed at building a vibrant infrastructure sector.
Furthermore, Japan assures continued support and collaboration to bridge the gap through financing, technology and capacity building in various segments. This will not only strengthen bilateral relations but also deepen engagements through investment promotion to boost sustainable growth.
Under Japan cooperation, Rwanda has registered tremendous achievements in transport through cross border bridge of Rusumo and a 208 Km regional road linking Rusumo to Kagitumba while for water sector, treatment plants were constructed to ensure the improvement of access to water in Kigali city.
Electricity transmission remains also an achievement, where in City of Kigali and rural areas, transmission lines were constructed to enhance power stability and improve distribution network. in addition, five substations in the City of Kigali, Eastern and southern provinces were rehabilitated improve the quality of power supply and reduce power losses. (End)