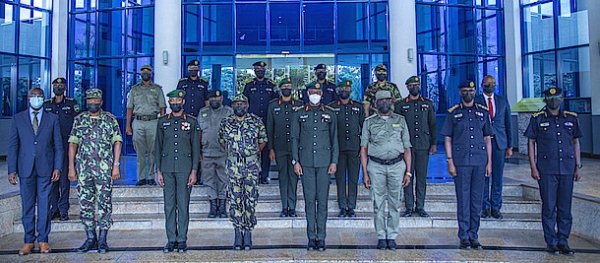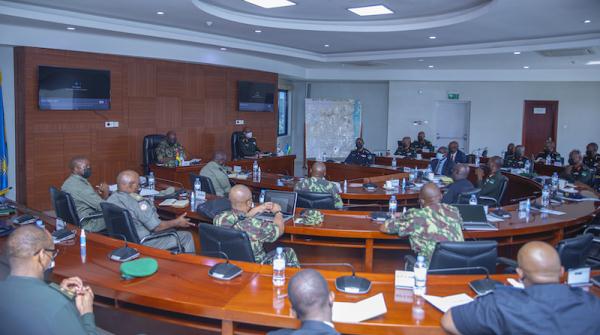 A defence and security operational meeting between Rwanda and Mozambique security officials was held at the Rwanda National Police Headquarters, in Kacyiru, Kigali to review the security situation in the fight against insurgency in Cabo Delgado province in Mozambique.
The meeting was attended by top defence and security officials on both sides including the RDF Chief of Defence Staff, Gen J Bosco Kazura, the Chief of General Staff of Mozambique Forces, Admiral Joaquim Mangrasse as well as the chiefs of Police of Rwanda and Mozambique and the Secretary General of NISS.
The meeting examined the progress made in last 6 months since Rwanda sent troops to Mozambique to help restore state authority in Cabo Delgado by conducting combat and security operations as well as carrying out both stabilisation and security sector reform. They identified key Challenges met and designed strategies moving forward.
The meeting observed that the strong partnership between Rwandan Security Force and Mozambique Security Organs registered success in the shortest possible time in stopping and neutralising the Ansar Al Sunnah Terrorists. After the cessation of hostilities with insurgents in Rwanda Security Force areas of responsibility namely Palma and Mocimboa Da praia in Cabo Delgado, the Rwandan Security Force in partnership with Mozambique Forces commenced stabilization operations to include repatriating civilians from camps in Cabo Delgado to their homes in order for them to continue with their normal lives.
The meeting stressed that the complete recovery of the province was premised on resumption of economic activities and settling of displaced persons in their homes. This should be followed by a deliberate process of reforming the security sector through training and capacity development of Moz security forces.
The Rwanda Defence Force Chief of Defence Staff, Gen Jean Bosco Kazura stressed that the Rwanda Security Forces will remain committed in partnership with Mozambique Forces in finding lasting peace in Mozambique. "The synergy of our joint forces has proved to yield excellent results" He stressed that Rwanda security forces will remain fully committed to continue with the journey of finding solutions to problems and new challenges.
The Mozambique Armed Forces Chief of General Staff thanked Rwanda security forces for their unwavering commitment to the cause of fighting insurgents in the last six months (July 2021 to date). He requested Rwandan security forces to continue supporting Mozambican forces in their journey to improve their capacity through training, on one hand and fighting the insurgents wherever they may be. The insurgents were significantly weakened and will continue to be, through our joint actions.
Both parties agreed to establish Joint security force teams to design new strategies to improve the stabilisation and security sector reform process which is a critical stage in realizing sustainable peace and progress in the province. (End)