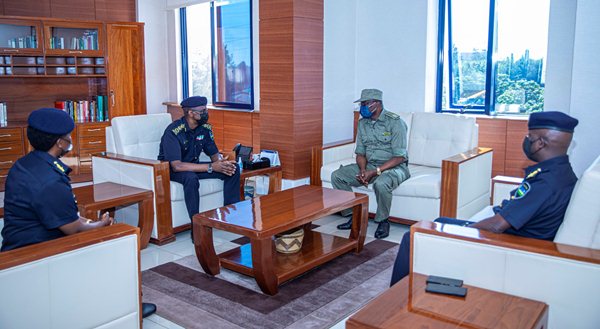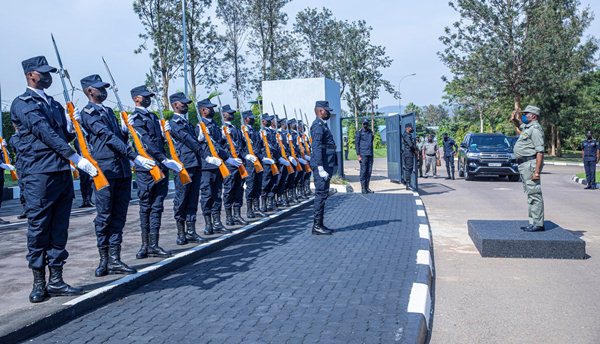 Following yesterday's meeting, today the Commander General of the Police of the Republic of Mozambique Bernardino Rafael paid a courtesy call to Rwanda police Chief Dan Munyuza at Rwanda National Police headquarters.
Bernardino Rafael and Dan Munyuza discussed on enhancing bilateral cooperation between Police institutions of the two countries. The Mozambican defence and security officials are in Rwanda for a three-day official visit.
On Sunday, January 9, top defence and security chiefs from Rwanda and Mozambique held a security meeting at the Rwanda National Police (RNP) General Headquarters in Kigali to forge a way forward against the ongoing counterterrorism operations in Cabo Delgado province in Mozambique.
Exactly six months ago, on July 9,Rwandan troops were deployed to support the Mozambican security organs in counterterrorism operations in Cabo Delgado province. The operations have so far been able to restore state authority in the province, flush out the Ansar Al Sunna terrorists, and forces are now engaged in stabilisation and security reforms including repatriating the affected civilians from internally displaced camps to their respective homes.
The complete recovery of Cabo Delgado has also seen the resumption of economic activities in the region as Rwanda and Mozambique remain committed to reform the security sector through training and capacity development of Mozambican security forces. (End)