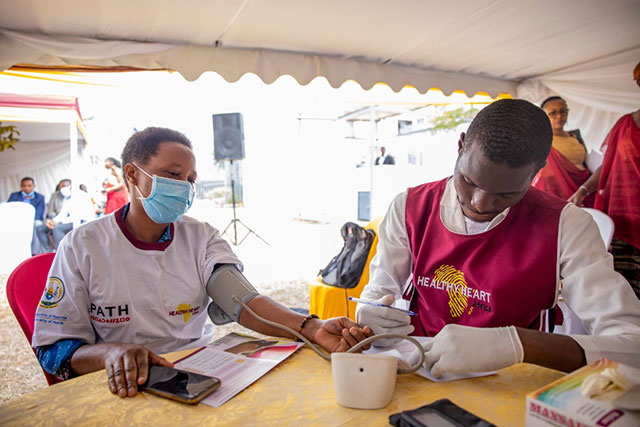 The Ministry of Health through Rwanda Biomedical Centre (RBC) in partnership with AstraZeneca, a global pharmaceutical company, has rolled out a two-years screening project to mitigate hypertension in Rwanda.
Dubbed, "Healthy Heart Africa", the program that will be implemented by PATH entails a screening exercise against hypertension and diabetes.
Hypertension is among the world's leading causes of death and one of the most prevalent risk factors to Non-Communicable Diseases, hence referred to as a silent killer.
This is in line with the government's five-year strategy aimed at reducing, by a third, premature mortality caused by non-communicable diseases (NCDs).
The Rwanda nationwide non-communicable diseases STEPwise survey revealed that 15.9 percent of participants had elevated blood pressure.
RBC further estimates that out of over one million people with hypertension, only 80,000 are enrolled at clinics, revealing a gap between diagnosis and treatment.
During the official launch of the programme, Dr. François Uwinkindi, the Division Manager of Non-Communicable Diseases at RBC, called for awareness raising and screening for the disease.
"It is not difficult to diagnose hypertension, and it can be treated with low-cost medicines and lifestyle changes, nevertheless there are significant gaps in the diagnosis and management of high blood pressure in Rwanda which needs to be addressed to reduce the burden of NCDs on our health systems," he said.
Before coming to Rwanda, Healthy Heart Africa (HHA) had been operational in other African countries including Kenya, Ethiopia, Tanzania, Ghana, Uganda, Côte d'Ivoire and Senegal among others.
Ashling Mulvaney, the Vice President of AstraZeneca in charge of Global Sustainability and Access to Healthcare, said the programme will build on "the remarkable effort that the Ministry of Health and RBC have invested to address the growing challenge of non-communicable diseases."
She also reiterated her confidence entrusted to the Rwanda's government for the smooth implementation of the screening project.
"We are taking the programme across Africa step by step and we also feel having a strong partnership with the Ministry of Health and PATH as a great opportunity, our primary goal is to ensure health equity through providing life-changing treatments, affordable medicines because access to health is our priority," she added.
On his side, Dr Amos Mugisha, PATH Country Director in Tanzania, said that they chose to focus more on hypertension as it is one of the diseases that has been "forgotten".
"Hypertension is a silent killing disease that has been forgotten, we have big programs concerning HIV, cancer, and others but hypertension seems to be ignored, so we thought that it is a problem that needs attention and so we decided to tackle it as it has no implementing partner," he said.
He explained that to implement the programme, they are working with community health workers to ensure that enough screenings are done and to achieve the programme's goals which will be taken up by the Rwandan Government.
Over 500,000 people are expected to be screened during this programme. According to the World Health Organisation (WHO) estimates from 2016, Non-Communicable Diseases (NCDs) accounted for 44 percent of total annual deaths in Rwanda, with cardiovascular diseases accounting more than half of the non-communicable diseases related fatalities. (End)