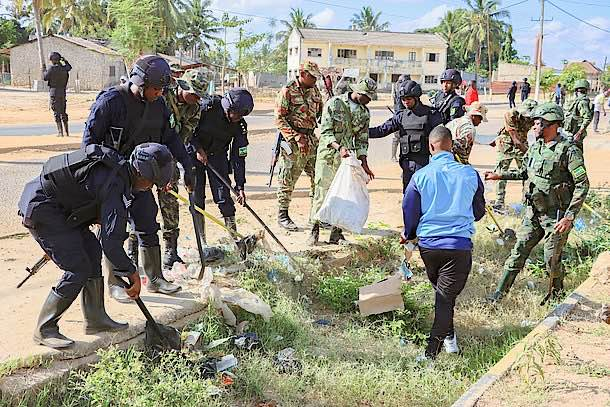 On Saturday 23 Sep 23 Joint Security Forces (RSF and FADM) carried out joint community work (Umuganda) in Palma and Mocimboa da Praia cities. This event was part of a series of activities that commemorated the 59th anniversary of Liberation Day (25 September 1964) for Mozambique in its fight against Portugal's colonial rule.
The activity was conducted jointly with the Mozambique National Security Organs and RSF. In Palma, the security forces cleaned the surroundings of Palma Health Center together with Medical personnel operating at the health center while in Mocimboa town the cleaning activities included main road/feeder roads, streets and roadside of the town. At the same time RSF provided water to the 1650 returnees form Naquitengue who are at Trinta de Julho Primary school 3 km from Mocimboa town.
After community work, RSF Commanders in Mocimboa and Palma appreciated the FADM's initiative of organizing the event that brought together security organs to support Palma and Mocimboa for cleaning the surroundings. They also assured FADM and the leadership of Palma health center that RSF would continue to support these initiatives in future.
On behalf of FADM, Col Ali MUANDO in his speech, expressed his gratitude towards RSF for receiving the invitation and attending the activity. He also promised to keep that good relationship between RSF and Host Nation Forces as well as the population.
Dr. SANTOS the Head of Palma Health Center also appreciated the work done by both HN forces and RSF and promised to continue the good initiative of maintaining a clean environment in the community. (End)