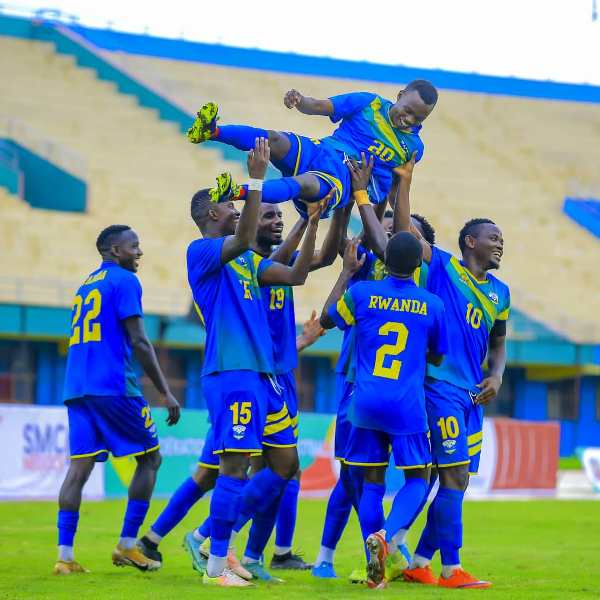 Rwanda National Team 'Amavubi Stars' won the first friendly match against Guinea at Amahoro Stadium. The Amavubi Stars beat Syli National 3-0 who are preparing for the Africa Cup of Nations.
The Amavubi Stars opened the scoring through forward Muhadjir Hakizimana in the 22nd minute capitalizing from loose ball from Ousmane Kanté. Syli National tried to find an equalizing goal but the Amavubi Stars defense stood firm and kept them at bay until the halftime whistle by GATOGATO George referee from Burundi.
Rwanda started the Second Half making a substitution with Yves MUGUNGA making way for Ernest SUGIRA. The latter provided an assist two minutes later to Dany USENGIMANA whose long-range shot could not be stopped by the Guinea shot stopper to make it 2 nil for Rwanda. Syli National made various changes looking to reduce the deficit but debutant goalkeeper Adolphe HAKIZIMANA resisted the Guinean revolution.
Rwanda Head Coach Vincent MASHAMI made further changes to his starting lineup, bringing on Fred MUHOZI who was called up for the first time in the Amavubi Stars. The young attacker scored Rwanda's third goal four minutes after his cameo following a through ball by Ernest SUGIRA. Muhozi finished with composure sending the Guinean goalkeeper the wrong way.
The Amavubi Stars kept Guinea at bay in the first International Friendly Match with the match ending Guinea 0-3 Rwanda.
Rwanda will face Guinea in the Second International Friendly match on Thursday 6 January 2022 at 4.00PM. (End)