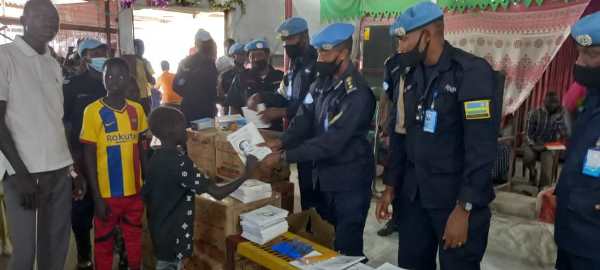 Rwanda Formed Police Unit-One (FPU-1) deployed in Malakal, Upper Nile under the United Nations Mission in South Sudan (UNMISS) donated scholastic materials and sanitary towels to students, who were displaced by violent conflicts and currently sheltered in the Protection of Civilians (POC).The camp is under the protection of Rwandan Police peacekeepers.
At least 2880 exercise books and pens as well as 1150 pieces of sanitary towels were donated to support over 1400 vulnerable pupils of Good Foundation primary school in Malakal POC.
The event also included the handover of organic gardens to women in the POC, which were constructed by the Rwandan peacekeepers as well as training the women on how to construct the kitchen garden, nutritious vegetables to plant and how to prepare a nutritious meal.
The donation is a contribution for each of the 240 officers of the Rwanda FPU-1 contingent.
Rwandan women peacekeepers also engaged girls on hygiene, child and early marriage, unwanted pregnancy as well as the importance of education for their better future.
Early or forced marriage is a common practice in South Sudan.
Rwanda FPU-1 contingent commander, Chief Superintendent of Police (CSP) Faustin Kalimba, while addressing hundreds of students, parents and POC leaders during the handover of the donations, called for unity and supporting each other in times of need.
He embarked on ill-effects of drug abuse, one of the challenges affecting the young people in Malakal and South Sudan in general.
"Regardless of the challenges you are going through, you should have hope in education. Parents, endeavour to encourage and support your children to go to school, protect girls from forced marriage, which is a human rights violation and prevents them from having a better future," CSP Kalimba said.
He thanked them for their support in peacekeeping duties adding that the donation is a Rwandan gesture to encourage the children to go to school, ensure hygiene especially for girls, effective land use for a healthy diet. (End)